The Amin family is a foreign family of Al Simhara from The Sims 3: World Adventures. This family consists of Samir and his wife, Fatima, and their children, Imsety and Satis, who all share the hidden Egyptian Culture trait. They live in the Date Palm House. There is a large tomb puzzle below their house which is, according to adventure text, the headquarter of an unnamed resistance to MorcuCorp.
Family tree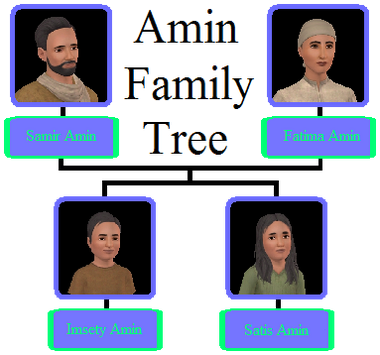 Members
Ad blocker interference detected!
Wikia is a free-to-use site that makes money from advertising. We have a modified experience for viewers using ad blockers

Wikia is not accessible if you've made further modifications. Remove the custom ad blocker rule(s) and the page will load as expected.