Testingcheatsenabled
Talk

6
7,779pages on
this wiki
Testingcheatsenabled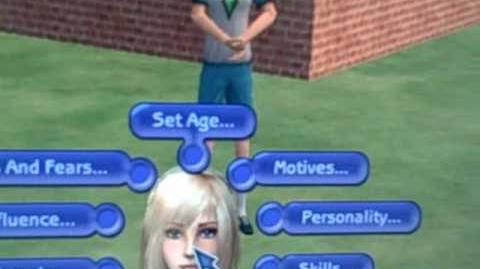 New Sims 2 Cheat(07:29)
2,705 views
An example of this cheat in action in The Sims 2.
boolProp testingCheatsEnabled and testingCheatsEnabled (not case-sensitive) are debugging cheats left in The Sims 2 and The Sims 3. They can be activated by opening up the cheat console (with CTRL+SHIFT+C) and typing boolProp testingcheatsenabled true [TS2][TSS] or testingcheatsenabled true [TS3] [TSM].
This cheat is often erroneously called "boolProp", which means "Boolean property" or "true/false". In The Sims 2, there are several cheats that start with "boolProp".
Use and abilities
Edit
Once the cheat has been enabled, clicking on any Sim or object whilst holding down the Shift key will cause a menu with debugging options to pop up. These can range from making certain Sims selectable and unselectable, making Sims grow up instantly (or killing them by Old Age, if the option is used on an Elder), changing a Sim's aspiration or traits or spawning several cheat objects[TS2]. All objects have the option Force Error, which can be used to reset objects (thus halting their actions) or delete them (although not permanently in the case of Sims and Pets). The debugging cheats can be turned off by opening the cheat console and typing boolprop testingcheatsenabled false.
Players can also use testingcheatsenabled to control Sims that are not part of the household with the Make Selectable option, or they can temporarily remove household members with the Make Unselectable option. This option allows the player to control newborn babies, whom are not normally controllable. Several NPCs, such as the Grim Reaper or the Therapist, lack this option and therefore cannot be controlled by the player.
If the player is in Create-A-Sim [TS2] mode whilst the cheat is active, they can press SHIFT+N to enter CAS debugging mode, which allows the player to give Sims clothing and hairstyles that would normally be unavailable (such as NPC and job-exclusive clothes).
Activating cheat in The Sims Medieval
Edit
Testingcheatsenabled cannot be used by default in The Sims Medieval. Instead, activating it requires the player to modify the command.ini file in *\The Sims Medieval\GameData\Shared\NonPackaged\Ini (the default location is in C:\Program Files\Electronic Arts\The Sims Medieval\GameData\Shared\NonPackaged\Ini and change TestingCheatsEnabled=0 to TestingCheatsEnabled=1.
Dangers of using the cheat
Edit
This cheat shouldn't be used too much and too long and it is advised not to save the game without deactivating it, as this can cause game crashes. When this cheat is active, family members and objects will occasionally experience errors of which the player is informed of with a pop-up. Game corruption can occur by using this cheat to kill off or add certain NPCs to the family.
See also
Edit