Bridgeport

Founded by Ebenezer Alto at the turn of the century, Bridgeport was once a busy shipping town inhabited by sailors and smugglers. However, when the film industry came to the city, celebrities, Simoleons, and the sparkling lights of fame took over. Now a vibrant city with an energetic night life and bustling club scene, Bridgeport has made its mark on the map. With all the lights on, will its past ever resurface?
Name
Bridgeport
Game(s)
The Sims 3: Late Night, The Sims 3 Starter Pack
Bridgeport is a world that ships with The Sims 3: Late Night. It is the first urban city of its kind to be featured in The Sims series games as most past neighborhoods and worlds were either towns or suburbs.
Bridgeport was founded by Ebenezer Alto, as stated in the town's description. In the past, Bridgeport was once a shipping town that was full of sailors and smugglers, where the only beach in Bridgeport is named the Smuggler's Cove, situated on a small coastline facing the bridge and the bay. Some time later, Bridgeport has turned into a nightlife city when the film industry came to the city, changing the small town into a bustling downtown with high-rise buildings.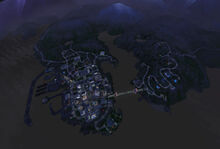 Bridgeport is designed to focus on late night activities, and is similar in many respects to the Downtown sub-neighborhoods in The Sims: Hot Date and The Sims 2: Nightlife. Bridgeport consists of two sections connected with a large bridge. The urban city center is where all the bars, clubs, lounges, and penthouses are located. The other section is an exclusive neighborhood for the wealthy, where most high-star celebrities live in their mansions. There are other celebrities who live in the urban area as well, and the city center has a film studio for Sims who are employed as actors and actresses. The urban city center faces the ocean, while the wealthy neighborhood is located further to the east.
Bridgeport is a special late night town, which differs from the other worlds in The Sims 3. In Bridgeport, fake taxi cabs will appear across the town to simulate a bustling downtown feeling. Some wildlife animals, i.e. wild horses, deer, and raccoons, will also not appear in Bridgeport. Bridgeport also has different work hours than the other worlds, which mostly occur around the afternoon and evening. Bridgeport is a suitable place for single young adults and older to have fun and party. Most residents are also on average richer than other families in different worlds.
Community Lots
Edit
AJV Wellness Center (gym)
Aquarius (poolside club)
Banzai Lounge (fusion lounge)
Bogaard Overlook (small park)
Bridgeport Acres (big park or festival grounds[

TS3:S

])
Bridgeport Public Library (library)
Bridgeport Eternal Rest Cemetery (graveyard)
Bridgeport Sports Zone (sports bar)
Buena Vista Resort (small park)
Butterfly Esplanade (big park)
Civic Plaza (visitors allowed)

Eugi's (local watering hole)
Marina Field (big park)
Overlook Point Subway (no visitors allowed)
Plasma 501 (vampire lounge)
Smuggler's Cove (beach)
The Brightmore (disco club)
The Grind (dance club)
The Prosper Room (exclusive lounge)
The True Modern Art Gallery (art gallery)
Waylon's Haunt (dive bar)
Rabbit Holes
If the corresponding expansion pack is also installed, the following lots will be replaced.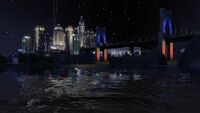 §20,000
Difficulty: 2
The spotlight attracted Lala (not her real name) to the city where she thought she would find wealth, fame and love. Reality quickly caught up with her when she and her daughter were abandoned by the love of her life. Lala buried the past and all memories of her daughter's father, even his identity. Ten years later, the young Tiara has become a star and has fulfilled her mother's dream! The two are now the center of any party, masquerading as sisters on nights out together!
§4,000
Difficulty: 2
Alexy, Harry and Matilda draw inspiration from their shared experiences in this small artist commune they call home. Harry is the most cerebral of the trio and loves his books and computers. Will romance blossom amid the portrait painting and jam sessions? Will the three of them remain the best of friends?
§1,900
Difficulty: 1
Devin is dreaming of making it on the big screen! Ever since he was a little boy, he's not only been dreaming of seeing the ultra-famous Matthew Hamming, but to be just like him. Will this Sim ever to see his dreams come true or will he only succeed on TV?
§3,000
Difficulty: 3
The Atkins twin sisters have witnessed the city's development over several decades. Now that everything is changing so rapidly, Violet's grandson Jett is their only link to the young city it has become.
§60,000
Difficulty: 3
Rock Star Lola Belle's adoption of her son Jupiter Bell began a trend of celebrity adoptions. Lola keeps the spotlight towards her family by showing up Jupiter in pink for all the paparazzi. She keeps in shape by practicing with her coach Moxie Logan and young with her beautiful boyfriend Kai Leiko. It's a great life!
§15,000
Difficulty: 3
No one really knows how these former Twinbrook residents came under the same roof. From Lil Bling's persistence to Big Hartley's muscle, music mogul Tom Wordy has surrounded himself with the people he trusts most. Lil Bling wants to follow Tom's footsteps but they are sizable footsteps indeed. Will there be a future for Tom and Sugar Bijou or is she merely a trophy girlfriend?
§600
Difficulty: 1
There are only two things Wayne Bumble think are exciting, to be rich and be famous. Since he is new in town Wayne need to address some of the big city problems, not to mention the growing vampire activity, whether he'll come through.
§1,200
Difficulty: 1
It was always thought that little 'Eby', as his parents and his older siblings called him, would continue to work on the family's llama ranch that generations before him have done. But to the family's dismay Ebenezer's love of music brought him to town, away from the family. Will he be able to support himself on his talent or will he return to the ranch?
§5,000
Difficulty: 3
There's a lot of dirty laundry in the Cook household. Jeffrey and Lady maintain the appearance of a married couple but can barely stand the sight of each other. Lady is more interested in facials than face time with her impressionable teenage daughter. Will Elspeth turn out OK with her mother's esthetician Cressida Wells as her only confidante in this dysfunctional household?
§2,500
Difficulty: 1
Small-town girl Caroline arrived in the city, hoping to start working in journalism and she has managed to start the climb to the top. Does she have what it takes to become a star reporter and take care of herself in the big city?
§3,600
Difficulty: 4
A house can hold many stories. When the City Canal commenced the shooting of the 17th season of Little Celebrity and put together these participants they knew that it would be a great program. Katelyn and Apollo gives lots of meaningless entertainment while Kirby is longing for one of the city's famous politician. William is too smart for his own good, but does he know who his secret admirer is?
§50,000
Difficulty: 1
Matthew Hamming is no stranger to the limelight. Topping the list of the world's most eligible bachelors and a permanent fixture on the silver screen, is there anything more Matthew could ask for? If the tabloids are to believed, he's still searching for that elusive special lady; the paparazzi has a hard time keeping up with his trail of leading ladies and broken hearts.
§4,000
Difficulty: 3
You can not really put a stamp on the family Hemlock but the neighbors usually call them "those hippie vampires'. Morrigan, Wogan and their child Belisama like to grow fruit plasma through hydroponics and in ordinary soil, and to play music together as a family.
§2,000
Difficulty: 2
It's the Jones family that sets the benchmark in the neighborhood. Both Johnny and Diana are at the peak of their careers and they have no children, so life is pretty perfect. Will unexpected desires make the ride a bit more uneven in the future? They live in a Penthouse Condo.
§8,000
Difficulty: 2
Johanna King, a born comedian who goes by the name 'Funny mother' in their daily programs. When she is not in the studio, she has done it alone parenting to an art form and brings up Lisa, her angel daughter, with sound values and a lot of laughter.
§10,000
Difficulty: 4
The Littler family is one of the city's most prominent families, even if they are not particularly popular. Renee Littler is a successful news anchor and spoils her unpredictable children. Reuben lives in the shadow of his wife's success. Will their marriage survive their differences or will their housekeeper Odine Perry be a dangerous distraction.
§350
Difficulty: 1
Polly wants nothing more than a good book and a long nap, which she has got plenty of time for in her basement flat. On the other hand, Polly is concerned about meeting other Sims and make friends. Will she need to be more outward-looking or successful to be liked?
§2,500
Difficulty: 3
If the ladies in this house had fangs, they would have torn out the throat of each other long ago. While Bianca, Lilly-Bo and Marina get each other's blood boiling, vampire Beau is biding his time and enjoying the feud. Which of the three will he find irresistible in the end?
§30,000
Difficulty: 2
Alan Stanley and his partner, A-list actress Emmy Starr live the grand celebrity life. A director extraordinaire, every young actor wants to work with him and every young filmmaker wants to be him. Emmy rose to stardom as the lead actress in his early films. Rumor has it that this relationship is a little unbalanced. What goes on off the set for this couple?
§6,000
Difficulty: 2
Katrina Pala is an enterprising businesswoman, bringing the business world to life with her ambitious projects. In her custody is her less city-wise niece, Hannah Smythe. Katrina is eager to show Hannah the ropes on the business world but faces the uphill tasks of distracting Hannah from her reality television obsession.
§2,100
Difficulty: 1
Most people think that Romeo is just one of the city's wealthy playboys, running around town without a care. However, few will ever know of the sacrifices this super undercover secret agent has made for the city. This Sim could use a good night out on the town!
§400
Difficulty: 1
When the block is full of so many shallow sims, it is easy to miss poor Buster. If only he could earn enough tips to be able to afford an instrument... then he would be really happy! He may even move out of his current lair? Buster is a good-hearted man that just can't seem to catch a break living in the city. Maybe someday he will make it and be able to teach the young starlets a thing or two about hard work!
§1,800
Difficulty: 1
Vlad's stunning good looks have fooled many Sims to fall under his spell. Most sims in town thinks he is irresistible! He has good relations with the city's vampires, but now that a new group is on the march Vlad might have to choose sides.
§900
Difficulty: 1
Lenny has repeatedly tried to support himself by selling photos of celebrities. Things have gone well sometimes when he took a good picture, but mostly it's been tough. It is time for Lenny to put away the camera and get a real job.
§700
Difficulty: 1
After finally taking his science degree Mick has just started his career at the local science facility. But Mick has recently discovered that it's more fun to mix drinks than mixing chemicals in a lab. Can he be a good enough mixologist to leave his scientific career for good?
§5,000
Difficulty: 1
Do not let her charming personality fool you. The last hundred years, Elvira has been the city's most feared and powerful vampire. But a new influx of young vampires has just moved to town. Will it be scary?
§40,000
Difficulty: 3
The Striker family is a global fashion sensation in which the young Sebastian always is appointed to be the city's best-dressed baby. But it's Strikers envied athletic skill that has made him the star he is. What new rivals will the glamorous Stella find in town? Will the family's fame and wealth be enough, or does she need more confirmation?
§3,500
Difficulty: 2
Jessica Talon, a name that puts fear in many young vampires, has forced some Sims to stake their allegiance against her. Her better half, Rafael Striker, is much less intimidating but just as influential a name in late night business circles. Underneath her tough exterior, Jessica's chief desire is just that Rafael will keep up with her on the dance floor. He has other ideas though, like owning his own bar.
§1,500
Difficulty: 2
Barry Tenderlove, Jun Xu, Ace Wilde (Bridgeport Armory)
The residents of the Tenderlove household are regulars at the club scene downtown. Between Barry's bartending dreams and Ace's penchant for neon club wear, there are a lot of nightlife aspirations under one roof. Jun and the boys really hope they make it in this town because they can't imagine living anywhere else!
§1,500
Difficulty: 1
Aria is considered one of the best musicians in town. She has won several awards for her beautiful singing with guitar accompaniment. People have no idea that she is doing it just for fame and fortune! She would rather sit every day in front of a TV or a computer in her Penthouse Condo.
Homeless Sims
Edit
These Sims are pre-made, but homeless when Bridgeport is first loaded.
Notable Sims
Edit
Deceased Sims
Edit
Technical Problems
Edit
Routing/Lag issue
Edit
Bridgeport features several major flaws in its construction. Firstly, EA has managed to build two identical roads directly on top of one another in one particular area. This mistake confuses the routing system, slowing down performance and forcing cars and Sims to move about the world in sometimes strange ways. Secondly, there are small patches of routable terrain in the hills near the radio towers. NPCs and townies get stuck in these patches. These trapped Sims constantly try to walk somewhere, and this can cause slowness and lag. Eventually these trapped Sims die of starvation. The third issue is the routing when traveling in groups. The leader of the group will use the subway, though the others might choose to walk, even if the destination is very far. For these reasons, Bridgeport's performance will always be substandard unless the town is fixed in a patch, or via mods.
Another problem has been reported by some players that they can't build a SimBot in Bridgeport, because the option menu to "Create a mystery invention" or "Create a SimBot" at the Workbench isn't available. This makes Sims who already have a lifecore in their inventory unable to complete the opportunity even if they are moved to another world like Twinbrook, because the lifecore is still stuck there and can't be removed normally. A game mod has been created to fix this problem, it will make the "Create a mystery invention" or "Create a SimBot" option will be available again.
Multi-Rabbit Holes Glitch
Edit
Due to multi-rabbit holes in this town, some opportunities (such as this one from Professional Sports) are not able to be completed despite the appropriate building (e.g. City Hall) being there. This is because the game assumes that the lot is invalid and therefore there are no options. This glitch can be resolved if the building from The Sims 3 base game or Ambitions is used (e.g. the Sunset Valley City Hall).
The overall geography, climate and shape of the city is similar to Seattle and Vancouver.
There are roads on the edges of the peninsula that has borders with signs with an Interstate Highway shield with number 99 on it. It has 2 parts that goes parallel to the peninsula.
Bridgeport is the name of many cities in the United States,[1] most notably Bridgeport, Connecticut.
Many players believe Bridgeport has a similar appearance to New York City, Detroit, and other major American cities. The bridge bears a faint resemblance to the Brooklyn Bridge. However, EA has stated it is not based upon New York City.[2] Graham Nardone stated that Bridgeport is loosely based on Pittsburgh as inspiration.[3]
The players can see pigeons hanging around the front of town hall during the day.
Smuggler's Cove has a connection to Barnacle Bay.[confirmation needed]
Some townies are family members of playable Sims, such as Flo-Flo Chique and Ryan Atkins.
Several urns and gravestones are scattered about the city's alleyways. Also, similar to Twinbrook's and Barnacle Bay's green-colored deceased Sims, the deceased Sims have a grey color scheme.
There is a "small city" behind Bridgeport. The player can see it by using cameraman mode and following the road that leads outskirts of the city.
Bridgeport generates decorative fake taxis on the road to make it look bustling.
Around Bridgeport are many roads which sink into the sea and one of the roads leading out of the city is cut off by a landslide. This hints towards a possible earthquake that occurred before the game's start, a possible reference to the 1989 San Francisco Earthquake.
Bridgeport's biography, the community lot "Smuggler's Cove" and the old red building near the City Hall are the only three solid proofs that smugglers were once the dwellers of Bridgeport.
According to the description of the building where the "Mixture of Good and Bad" household lives, the Off Ramp Building is the only apartment that was spared during the bridge construction at the time. This could tell that there could have been a lot of apartments around that area but was demolished due to the architectural design of the bridge. Fortunately, the design was changed and the Off Ramp building is safe though the apartments around is already gone. The last building to be demolished was the building beside the Off Ramp which was used to be favored by tourists before the demolition.
References
Edit
Featured Article
This article is a
Featured Article
. Its layout and content is an example of excellence on The Sims Wiki.
Dates featured: May 16–31, 2012.