Bunch family
Talk

5
7,763pages on
this wiki

Bunch family

Description
Here's the story: Two working parents juggle family, household chores, and their careers while their four children run wild. What is the right balance for this family of six to stay sane?
Name
Bunch family
Members
Jack Bunch, Judy Bunch, Ethan Bunch, Lisa Bunch, Arlo Bunch, Darlene Bunch
Number of generations
2 generations
Lot
16 Maywood Lane
Funds
§3,300
Difficulty level
The Bunch family is a pre-made family in The Sims 3 who resides in Sunset Valley. The family consists consists of Jack Bunch, his wife Judy and their four children Ethan, Lisa, Arlo and Darlene. Their last name is a reference to the television show "The Brady Bunch". They live on Peep's Peak at 16 Maywood Lane.
The Bunches seem to have a bit of a disastrous life what with four children doing many things at once and two working parents. Judy is a scientist, Jack is a formal Military man with an outgoing personality, Ethan is a popular teen around school, Lisa is described as a "childish bad girl" who is somewhat charismatic (though she doesn't have the trait), Arlo is a hyperactive kid who is difficult to restrain, and Darlene just wants attention and has already "broken a few bones" to prove it.
Interestingly, when the player first inherits a house in Maywood Lane, you can see Jack Bunch driving a Margaret Vaguester with his family (considering Jack's career at level 8 of the military career track). Strangely, Jack and Judy have brown hair, but all their children are blond.
Onomatology
Jack: Hebrew for "Graced by God."
Judy: From Judaea, it might be also a diminutive of Judith.
Ethan: Comes from the Hebrew word "Eitan", which means "solid, enduring."
Lisa: Short for Elizabeth, meaning "my God has sworn" in Hebrew.
Arlo: It is of Old English (Harlow) origin, and the meaning is "barberry tree."
Darlene: a possible variation of "Darling".
Bunch: a connected group or cluster; may also refer to the popular sitcom The Brady Bunch, whose central characters share some similarities with the family.
Jack and Judy may also be a reference to Jack and Judy Geller, the parents of main characters Ross and Monica Geller on the popular sitcom Friends. (Interestingly, a recurring secondary character on the same show had the surname Bunch).
Family tree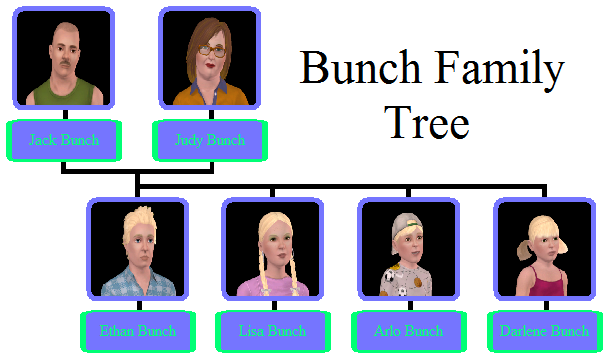 Members
Photo album
The Bunch Home
Peep's Peak (4br, 4ba)
This large, three-story family home includes a guest bedroom on the first floor and an ultra-private bathroom on the top floor. The expensive yard includes a patio perfect for summer grilling.
Address - 16 Maywood Lane