Ad blocker interference detected!
Wikia is a free-to-use site that makes money from advertising. We have a modified experience for viewers using ad blockers

Wikia is not accessible if you've made further modifications. Remove the custom ad blocker rule(s) and the page will load as expected.
Carpenter-Rhodes family
Name
Carpenter-Rhodes family
Number of generations
2 generations
Description
'Hope and Buzz live happy since always or almost. They have worked hard to earn their living correctly and properly educate their daughter. Unfortunately, it does not often see them.'
Members
Buzz Rhodes, Hope Carpenter
Lot
518 Pumpkin Drive
Description
'Following in her mother's footsteps, Meadow has taken the caring of plants to a whole new level. Will she ever find room in her heart to let the seeds of love take root?'
Members
Meadow Carpenter-Rhodes
Lot
50 Long Island Drive
Difficulty level
The Carpenter-Rhodes family is a pre-made family living in Riverview. Hope and Buzz Rhodes are living together, but their daughter, Meadow Carpenter-Rhodes is living away from her parents. Despite this, her parents still have her old bedroom, but it appears she took some of its furniture away. It is clear that Meadow's passion for Gardening comes from her parents.
Family tree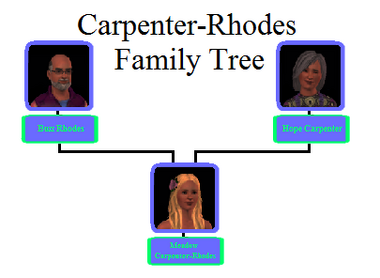 Members
Photo album