The cat jungle is a new lot assignment introduced in The Sims 3: Pets. They are the venues of recreation and relaxation for cats.
Varieties
Edit
Appaloosa Plains
Edit
Novigan Community Cat Jungle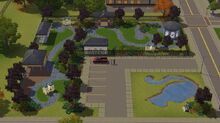 Novigan Community Cat Jungle in Appaloosa Plains.
The Novigan Community Cat Jungle is the default cat jungle in Appaloosa Plains. The lot can be distinguished by its cat-shaped lake.
Ad blocker interference detected!
Wikia is a free-to-use site that makes money from advertising. We have a modified experience for viewers using ad blockers

Wikia is not accessible if you've made further modifications. Remove the custom ad blocker rule(s) and the page will load as expected.