Clark family

Description
'The eco-friendly atmosphere is what brought the Clarks to town. They love the Earth and they love their happy drama-free lives.'
Name
Clark family
Members
Evan Clark, Jessie Clark, Wanda Clark Unborn baby Clark
Lot
8 Rock Ridge Road
Funds
§25,000
Difficulty level
The
Clark family
are from the downloadable neighborhood,
Aurora Skies
. It consist of
Evan
,
Jessie
and
Wanda Clark
, and an
unborn child
. Their family bio says that the Clarks moved to Aurora Skies because of the eco-friendly atmosphere. The family reside at 8 Rock Ridge Road and begin with §25,000 in household funds.
Onomatology
Clark: Meaning "scirbe" or "cleric" in Old English. A famous bearer was William Clark.
Evan: Anglicized form of Lefan, a Welsh form of the name John.
Jessie: Originally a Scottish form of the name Jean. In modern times it is also used as a diminutive of the name Jessica.
Wanda: A German name, meaning "a Wend", referring to the Slavic people who inhabited eastern Germany.
Family tree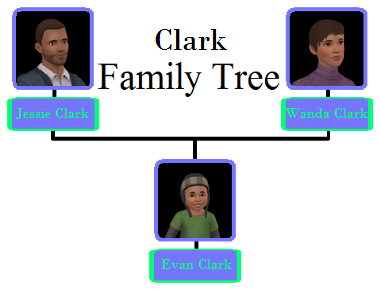 Members
Ad blocker interference detected!
Wikia is a free-to-use site that makes money from advertising. We have a modified experience for viewers using ad blockers

Wikia is not accessible if you've made further modifications. Remove the custom ad blocker rule(s) and the page will load as expected.