Not to be confused with Club (The Sims 3: Late Night).
Clubs are a new feature introduced in The Sims 4: Get Together, which work similarly to outings in The Sims 2: Nightlife and The Sims 3: Late Night, and social groups in The Sims 3: University Life. Sims can create a Club in which up to 8 Sims can join.[1] Leaders of the Club can change the color of its members' Plumbobs[2] (Leaders also get a crown over their Plumbob[3]) as well as customize their members' interests, personalities, behavior and style.[4]
This feature allows players to create and play with groups of different Sims and do various activities depending on the Group Leader's wishes.[5] Sims can join up to three different social clubs at a time, but can only play one at a time.
Creating a Club
Edit
Players can create a Club in which the selected Sim will become the leader. The player can choose the Club's name, Club symbol, description and requirements for Sims who join the Club. After this, the player can select what activities Club members can do, a Preferred Club activity and an activity which Club members are not supposed to do. This can all be customized from a Menu that pops up when creating a Club.
Requirements
Edit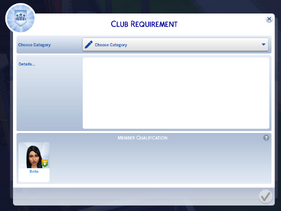 Players can set requirements for the Club such as Age, Career, Marital Status, Financial Status, Traits and Skills +2 level. These requirements block out anyone who doesn't meet the requirements from joining the club.
The full List of requirements are:
Child
Teen
Young Adult
Adult
Elder
Poor: less than §1000
Middle Class: (§10,000 - §30,000)
Wealthy: more than §30,000
Geek
Genius
Gloomy
Glutton
Good
Goofball
Hates Children
Hot-Headed
Insane
Insider
Jealous
Kleptomaniac
Lazy
Loner
Loves Outdoors
Materialistic
Club Activities
Edit
These are a list of Activities in which the player can select as an encourage activity or shunned activity. Here is the full listing of all the activities players can select:
Food and Drinks

All things Grilled Cheese
Bake [

GTW

]
Cook
Drink Bar Drinks
Drink Coffee
Eat
Grill
Mix Bar Drinks
Social

Be Friendly
Be Funny
Be Mean
Be Mischievous
Be Romantic
Fight
Give Speech [

CL

]
Hug
Kiss
Scare
Tell Jokes
Woohoo
Home Activities

Bathe and Shower
Browse the Web
Clean
Fix Objects
Sleep
Try On Outfits
Watch TV
Gatherings
Edit
When the Sim leader creates a Club, they can choose when and where Club members should go to hangout and do Club activities such as gathering around a Bonfire or go Swimming in a Natural Pond.
While having a Gathering club members will wander around and do activities that are set for the club, and club members will chat with other club members, but mostly stay close to each other.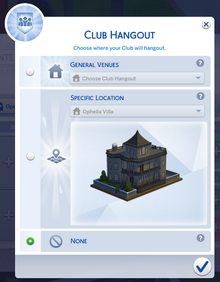 There's a secret lot in Windenburg which players can use to create a special location for their Sims' Club Hangout. This is where all the Sims in the Club will hangout in their spare time.
When creating a club or a Sim is leader of the club, the player can choose where the Club hangout is. This is the place where Sims within the club will go to during gatherings. Players can select a lot for Club Hangouts in three ways: selecting none will make all Club members come to the lot the Leader is on, selecting a Specific location allows for the Player to select any lot from any world as their hangout, and finally General Venues allows for the Player to make the Club Hangout at any Spa, any Gym, any Bar, any Park etc.
Club Panel
Edit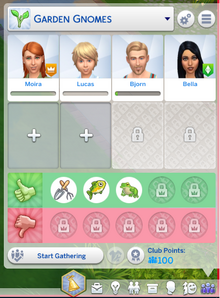 When a Sim has joined a club, the player can open the Club panel and see a panel showcasing their club's name, options, club members, club encouraged activities and banned activities.
Each Sim can join up to 3 Clubs, and each Sim can join different clubs to other Sims in their household.
Sims can start a gathering at any time, anywhere and for as long as they want. Players can also create the Club Members outfits and purchase new Club Perks with Club points.
Club Perks
Edit
When a Sim is gathering at a Club, every Sim that does the activities the club prefers will gain Club points as long as the Gathering is happening. With these Club points Players can purchase new club perks which can help do many things such as give a certain mood to all members while gathering, make the club hated or loved on first meeting, purchase new unique handshakes, boost skills etc.
Pre-made clubs
Edit
Existing Clubs
Edit
| Emblem | Club | Description | Hangout | Leader | Members | Requirements | Dos | Donts |
| --- | --- | --- | --- | --- | --- | --- | --- | --- |
| | Avant Gardes | Enjoy debating the subtle points of fine literature? Need help with your homework? Or maybe you just don't fit in anywhere else? Maybe, just maybe, you could be an Avant Gardes. | South Square Coffee, Windenburg | Maaike Haas | Gunther, Hugo, Yuki | None. | Do Homework, Drink Coffee, Write, Play Video Games, Read | None |
| | Garden Gnomes | Nature's all around you -- go and explore it! If you love hiking, fishing, and gardening... maybe you're a Garden Gnome too! | Hare Square, Windenburg | Moira Fyres | Bjorn, Lucas | None | Tend Garden, Fish, Look for Frogs | None |
| | Knights of the Hedge | We proud knights serve no master, but are pledged to wander the fair gardens of our very own chalet. | Von Haunt Estate, Windenburg | Jacques Villareal | Wolfgang, Yuki | None | Wander Maze, Play Chess | None |
| | League of Adventurers | The world's a mysterious place, full of adventure. Pirate ships and space cruisers can be found around every corner, and are waiting to take you away to magical lands and distant galaxies. Who will dare? Only adventurers! | Hare Square, Windenburg | Elsa Bjergsen | Lucas, Max | Child | Play on Playground, Play in Closet | None |
| | Paragons | It takes work to look this good. Perfection isn't easy. But everyone needs someone to look up to. That's why we have Paragons. | Bathe de Rill, Windenburg | Siobhan Fyres | Sofia, Luna, Sergio | None | Be Mean To Renegades, Drink Coffee, Try on Outfits | None |
| | Partihaus | Partihaus is about one thing: partying. And being a house. So, two things. | The Narwhal Arms, Windenburg | Jade Rosa | Marcus, Paolo, Eva | None | Dance, Drink Bar Drinks, Be Romantic With Everyone | None |
| | Powerhouse | We can all be better, faster, stronger, fitter. Whether you need words of encouragement or someone to kick your butt, we're here to help you get it done. | Harbor Quarter Gym, Windenburg | Marcus Flex | Clara, Paolo | None | Swim, Work Out | None |
| | Renegades | Wanna make friends? Wanna be popular? TOO BAD! The first rule of the Renegades is that you don't talk about the Renegades! | Bathe de Rill, Windenburg | Max Villareal | Morgan, Wolfgang, Ulrike | None | Be Mean To Paragons, Be Mischievous To Everyone, Sabotage Objects | Don't Be Mischievous to Renegades |
| | Spin Masters | Think you've got the moves and grooves it takes to join the Spin Masters? Find us and prove it! | Discotheque Pan Europa, Windenburg | Dominic Fyres | Candy, Joaquin | Lvl 2 + DJ Skill | Use DJ Booth, Dance | None |
| | The Good Timers | Everyone can be a Good Timer! You just need to appreciate a good drink and a game of Foosball among friends. | The Shrieking Llama, Windenburg | Bjorn Bjergsen | Dominic, Mila, Jacques | Teen, Young Adult, Elder, Adult | Play Pub Games | Drink Bar drinks |
| | Upper Crusts | We're not really stuck up; we just enjoy sharing the better things in life - as long as it's food-related. | The Lighthouse, Windenburg | Clara Bjergsen | Mila, Hugo | None | Eat, Mix Bar Drinks, Drink Bar Drinks, Cook | None |
Replacement clubs
Edit
These clubs are automatically generated by the game if the total number of clubs drops below 11.
| Emblem | Club | Description | Hangout |
| --- | --- | --- | --- |
| | Bearly Associated | Looking for a fancy shmancy club? This club's not for you. This is a bear-bones club for those who really like to strip down to their bear essentials and revel in the unbearable lightness of being bearly there. And roar at people. Also honey. Definitely honey. | Any Park |
| | Check Mates | Minutes to learn; a lifetime to master. No, it's not Foosball. It's the age-old game of Chess! | Any Park |
| | Club Cosplay | Love dressing up like your favorite fictional character? Not afraid of hanging around other people dressed in costumes? Club Cosplay is for YOU! | Any Park |
| | Complementary Colors | If you're a blue, we've got your yellow. If you're a red, we've got your cyan. We don't all get along - in fact, we often clash - but together we create the strongest contrast possible. | Any Museum |
| | Covalent Bonds | Not intimidated by rocket science? Think you could solve the Unsolvable Hetu Hypothesis if only you had enough moral support? Want to share electron pairs to create a stable balance of attractive and repulsive forces? Join the Covalent Bonds! | Club Member's Residence |
| | Guild of Gamers | Whether you're a Sims Forever fan or a Blicblock enthusiast, you're in! Gamers of all stripes, colors, or pixel resolutions welcome. | Club Member's Residence |
| | Major Chords | Major 'cause we're important. Chords 'cause we sound together. Don't you want to sound together with us? | Club Member's Residence |
| | Just for the Halibut | Don't play koi! You cod never find a betta crew! So drag your bass on over, grab yourself a perch, and get to fishin'! | Any Park |
| | Mixing Crew | If you love talking about the proper angle at which to shake a Simsmapolitan, or the right proportion of juices to use in a Sunset Valley, then the Mixing Crew is for you! | Club Member's Residence |
| | Page Turners | Read any good books lately? We have! And we're more than happy to tell you all about the characters (and characterization!), plot twists, story structure, themes, and symbols that we've analyzed. | Any Library |
| | Punch Lines | Comedy's not all fun and jokes - well, it is, but it's hard work, too. If you need a friendly audience to try out your one-liners and ad-libbing, the Punch Lines are happy to laugh with you, not at you. | Any Lounge |
| | Private Club | Tired of getting judged by those of lesser means whenever you talk about adding a new wing to your house, the latest vacation you took, or company you just bought? Perhaps what you need is just to associate with a different class of people. A better class of people? You might say that. | Club Member's Residence |
| | Society of Sixam | Whether you were born on the homeworld or you're more of the newfangled hybrid type, this club is for you. Come share your experiences of trying to maintain a secret disguise in a world where not everyone enjoys having their memory erased. | Club Member's Residence |
A Sim that is caught breaking the rules of a club will be scolded by the leader.
The "Renegades" and "Paragons" are named after the alignment choices in Mass Effect.

The description of the Renegades is also likely a reference to the Fight Club from the movie of the same name.
References
Edit