Community lot
Talk

3
7,765pages on
this wiki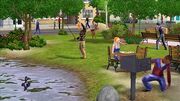 A
Community lot
is a public lot which serves as the basis for commercial or recreational buildings/facilities in a neighborhood, such as shops, parks, etc. These lots often provide important services for a
neighborhood
, such as selling clothes, groceries, and magazines; and providing gathering places and entertainment.
Townies
and playable
Sims
alike often appear on community lots to browse the goods, socialize or just hang around, so community lots are great places for Sims to make friends. Community lots are great places to meet the hard-to-find service Sims as well. Some (commercial only) objects can only be placed on community lots, and likewise some objects can only be placed on
residential lots
.
Community lots first appeared in The Sims: Hot Date, and each The Sims expansion pack after that introduced a new sub-neighborhood with its own community lots. In order to visit community lots outside of Magic Town, Sims must call a cab, and may have to pay for the ride. (Magic Town's community lots may be visited by using the Hole in the Ground.) When Sims visit a community lot, their residential lot is saved, and will not change until they return home.
All community lots in The Sims have an NPC who serves as a janitor. This NPC does general clean-up and repair work on the lot. The first janitor, elderly Janitor Sonya, is introduced in The Sims Hot Date. Janitors also appeared in The Urbz: Sims in the City
Except for Vacation Island lots and family members on Downtown lots, non-controllable Sims on The Sims community lots cannot be interacted with until they are either greeted, or autonomously interact with a controllable Sim.
Babies cannot visit community lots, and Sims will not be able to visit a community lot if that would leave a baby alone in the house. Children can only travel to community lots on Vacation Island, and in Old Town and Magic Town. Children can travel to Magic Town on their own if they use A Hole in the Ground.
Neighborhood children and pets will only appear on Old Town community lots.
In The Sims for console, there are 6 community lots that are unlockable in the game. Unlike in The Sims PC games, Sims cannot travel to community lots during normal gameplay. Community lots can only be chosen from the main menu, and all of them can only be played in multiplayer mode, where 2 players can challenge each other in a certain minigame.
These are the community lots in The Sims for console:
Note: The Handyman's House and The Maid's House are technically residential lots, since they are the homes of the Repairman's family and the Maid's family. However, they are unable to be played as residential lots, and they have their own minigames.
As in The Sims, residential lots become static when a Sim visits a community lot. Sims do not age while on community lots, but their aspiration level will still decay. Babies and toddlers cannot visit community lots. Children can, if they are traveling with older household members. If a child is taken to a community lot, neighborhood children may appear with one or both of their parents, or a child Townie may appear.
Sims cannot build skills on community lots, but can build fitness.
Travel to community lots is not instantaneous, and the game clock will reflect this. Since time stops on a Sim's residential lot while he or she is visiting community lots, this is primarily for "color", and has no real effect on gameplay.
Young adult Sims are able to build skills on university community lots. If FreeTime is installed, they are also able to build hobby enthusiasm on university community lots. University community lots cannot be visited by Sims in any other age group unless they are invited by a young adult Sim. The semester timer continues to run while a young adult Sim is on a university community lot, but time on the residential lot will still be stopped. However, if a young adult Sim visits a community lot in the base neighborhood or in another sub-neighborhood, the semester timer will pause until he or she returns to the university sub-neighborhood.
Note:
In university sub-neighborhoods, travel to community lots not being instantaneous does affect gameplay. If, for example, the game clock shows 10:50 when a Sim leaves a lot, and 11:10 when he or she arrives on a university community lot, that 20 minutes will be taken off the semester timer.
If any Sim in a household is five or fewer hours away from his or her last semester's final, no Sim in that household will be able to visit a community lot until that Sim has graduated. If a Sim reaches that point while on a community lot, the player will be told that the Sim needs to go home. If the Sim is still on the community lot when the last final is three hours away, the player will be given the choice of saving and sending the Sim home, or of leaving the community lot without saving.
Nightlife introduces the ability for Sims to have cars, which they can drive to community lots. It also changed the way players select which community lot Sims will travel to. Instead of clicking on a lot in the neighborhood view, a dialog will allow the player to select either the base neighborhood or a sub-neighborhood, and then to select a community lot in that area.
Playable Sims can buy community lots, and establish businesses on them. A lot's owner, and members of their household, can build skills on that lot, though the progress bar will not appear. When the player sends a lot's owner or a member of their household to that lot, those Sims' inventories will be accessible, Buy mode and Build mode will be available, and the player will even be able to save.
If Sims take their pets to a community lot, stray pets may appear on that lot.
Bon Voyage introduces the ability for Sims to walk to community lots. It also changed the way players select which household members will go to a community lot. Beginning with Bon Voyage, when sending a Sim to a community lot, the player will be able to choose which other Sims and pets in the household will go along.
Apartment Life allows Sims to visit community lots using a helicopter, if they own a helicopter and helicopter landing pad. If the Sim is a witch or warlock, they can use the option "Fly to" to go to community lots. They take out a broom and fly to that lot.
Unlike in the PC version of Pets, in the console version there is only one community lot in the whole game, that being Town Square. The park is a place where Sims can take their pets to interact with other Sims and pets, where all the events are held, and also where all the shops are located. Pet Points are used in this community lot instead of Simoleons.
Sims can perform the same actions on community lots as they do residential lots. Babies and toddlers can visit community lots with an adult Sim. Community lots can only be placed on designated areas in the neighborhood. Time is no longer held static when a Sim visits a community lot. Several community lots are rabbit holes. Sims can be a partner of certain rabbit holes, but can own any community lot provided they have enough money. These options are only shown when the household has enough Simoleons to perform the action. Sims can visit community lots by walking, riding a bike, or taking an automobile. There are no loading screens when a Sim visits a community lot.
In the base game, with no expansions or updates, Sims get deeds to the community lots they own. These deeds give the Sims the ability to receive money from the shops. These deeds can be passed around the household, as long as the Sims receiving them are teenagers or older. If a Sim carrying a deed dies, their deeds will go to the eldest household member. If a Sim carrying a deed moves out of the house, the deed will go with them, and the household will have to buy it from the establishment.
After updates and expansions are installed, the deeds will be removed; and Sims can easily buy lots through the phone or computer, or by going to city hall. The ownership of an establishment will go to the whole household, and teens and above can go pick up the money.
Lot assignments
Edit
There are several classes of community lots, largely determined by lot assignments. Upon release, the game determined these classifications according to the objects on the lot, but a patch altered this. They are now set either in the Create a World tool or from a drop down menu in edit town mode.
Related Articles
Edit