Cory's Place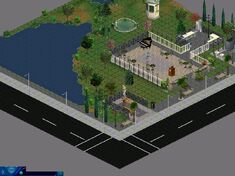 Traditional. Contemporary. Edgy. Comfortable. Eclectic. Just some of the words used to describe the world-famous Cory's Place.
Cory's Place is a Downtown lot in The Sims: Hot Date. Like Hedman's Hideaway, it is on Wright Way, which is most likely a reference to the creator of The Sims, Will Wright.
Cory's Place is a fancy outdoor restaurant, with a piano. There is a rental shack and a pond, so Sims can have picnics and play with boats. There is a swing for couples to swing on. In the standard version of this lot, the restaurant has a basic fountain, as seen in the page image. In the Unleashed version, there are two French-styled fountains instead.
Ad blocker interference detected!
Wikia is a free-to-use site that makes money from advertising. We have a modified experience for viewers using ad blockers

Wikia is not accessible if you've made further modifications. Remove the custom ad blocker rule(s) and the page will load as expected.