DJ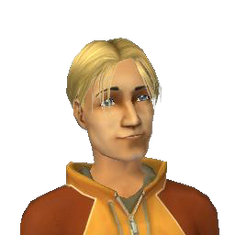 Amin Graham, a DJ from Nightlife.
DJs are a type of NPC in The Sims 2: Nightlife. Once Downtown is associated with the main neighborhood, the neighborhood will have three pre-made NPC DJs, and a booth placed on a community lot will use one of them.
If there's a DJ booth on a community lot, playable Sims can also work for a while as a DJ, and the Sim will earn simoleons while working at the booth. Also, Sims may have a want to work as the DJ.
If Downtown has not been associated with the main neighborhood, instead of the pre-made DJs, the game will generate DJs to work at the booth.
List of DJs
Edit
See also: Category:DJs

These DJs have their names randomized when the Downtown sub-neighborhood is associated with the main neighborhood. Their names are only referenced in the game files.
Ad blocker interference detected!
Wikia is a free-to-use site that makes money from advertising. We have a modified experience for viewers using ad blockers

Wikia is not accessible if you've made further modifications. Remove the custom ad blocker rule(s) and the page will load as expected.