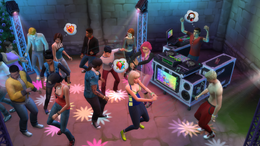 DJ Mixing is a skill in The Sims 4: Get Together and is highly important for the overall mood of a nightclub as the DJ will need to be good in order to liven up the party. Sims can build the skill by practising at a DJ booth. Increasing the skill allows Sims to do more DJ tricks and songs to play at the club.
Description
Edit
Anyone can scratch a record, but only Sims with the DJ Skill are always ready to drop a beat. They can play on the DJ Booth, create mixtapes and entertain a crowd.
This skill is gained by practising on a DJ Booth or by playing for a crowd. Increasing this skill unlocks new genres and interactions on the DJ Booth.
Ad blocker interference detected!
Wikia is a free-to-use site that makes money from advertising. We have a modified experience for viewers using ad blockers

Wikia is not accessible if you've made further modifications. Remove the custom ad blocker rule(s) and the page will load as expected.