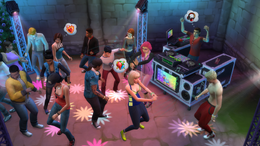 DJ Mixing
is a
skill
in
The Sims 4: Get Together
and is highly important for the overall mood of a nightclub as the DJ will need to be good in order to liven up the party. Sims can build the skill by practising at a
DJ booth
. Increasing the skill allows Sims to do more DJ tricks and songs to play at the club.
Description
Edit
Anyone can scratch a record, but only Sims with the DJ Skill are always ready to drop a beat. They can play on the DJ Booth, create mixtapes and entertain a crowd.
This skill is gained by practising on a DJ Booth or by playing for a crowd. Increasing this skill unlocks new genres and interactions on the DJ Booth.
Abilities
Edit
| Level | Ability |
| --- | --- |
| 2 | This Sim can now play the "Groovin" and "Machine" music genres, and switch between available genres while DJing. Other Sims can also enjoy the performance via dancing or watching. |
| 3 | This Sim can now play the "Chip-Tune" music genre and "Discuss Techniques" with other Sims. |
| 4 | This Sim can now play the "Chill-Out" music genre. |
| 5 | This Sim can now play the "Backbeats" music genre. |
| 6 | This Sim can now play the "Remixes" music genre, and upgrade the DJ Booth with "Dynamic Surge Protection" and "Advanced Heat Sink". Sims at this level can also engage with the audience via the "Get Hyped" interaction. |
| 7 | This Sim can now play the "House" music genre and perform the "Install Plasma Display" and "Parcticle Generators" upgrades on the DJ Booth. |
| 8 | This Sim can now play the "Machine" music genre, can create the "Mix-o-Lot" Mix Tape for use during a performances, and perform the "Wireless Display Override" upgrade. With this upgrade Sims can add new screens to the performance by enabling "Telesplosion" via the Control Panel. |
| 9 | This Sim can now play the "Hip Hop" music genre, and create the "Wiky Wiky" and "Scratch n Switch" Mix Tapes for use during a performances. |
| 10 | This Sim can now play the "Noise" music genre, set the mood of the audience with the "Feel the Crowd" option, and create the "Digital Era", "Party Hardy", and "Electrical Utsu" mix tapes for use during a performances. |