Death
Talk

65
7,765pages on
this wiki
Death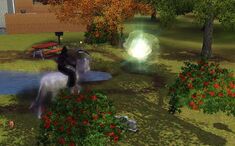 The death of a Unicorn in The Sims 3: Pets.
Death is the permanent state of (non-)existence in which a previously living Sim, pet, or other creature ceases to be alive. Causes of death can range from old age (brought on by reaching the end of the elder life stage) accident, player neglect, or through the deliberate choice(s) of the player.
Although death is typically a state of absolute finality, there are several ways in which the dead may still be interacted with or even brought back to life. The spirits of dead Sims are often left to roam the world as ghosts, and there exist several legitimate (i.e. in-game) and illegitimate (i.e. cheating) methods to revive ghosts.
Grim Reaper 
Edit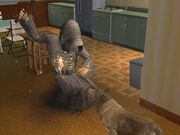 The Sim that has died is visited by the anthropomorphic personification of Death in the form of the Grim Reaper. However, the Grim Reaper does not come when a Sim is eaten by the Cowplant from The Sims 2: University, when a Toadified Sim is eaten by a dragon in The Sims: Makin' Magic and if a Sim dies in a Skydiving Simulator in The Sims: Superstar. In The Sims 2 and The Sims 3, the Grim Reaper plays a cameo depending on the method of death and the aspiration level[TS2] of the Sim in question.
Unlike most legends of the Grim Reaper, he seems to be a kind being in The Sims series. His personality is perhaps a reference to the personified Death character in Terry Pratchett's "Discworld" novels. His nice side shows when a Sim with a full aspiration bar dies of old age, during the animation of a pet's death, or resurrecting kids with the Resurrect-O-Nomitron.
In The Sims Livin' Large and The Sims 2, if there is a living Sim on the lot, they can plead with the Grim Reaper for their loved one. However, it doesn't always work. The chances of success are determined by the relationship of the Sim with the nearly deceased, and pure chance. If a Sim lives in a family, they should always keep a good relationship with family members. In The Sims, the Grim Reaper may be in a bad mood, and bring the deceased Sim back as a zombie. In The Sims and The Sims 2, it may not be possible to plead for a drowned Sim, as living Sims will not be able to get to the Grim Reaper if he is out in the water. However, if The Sims 2: Apartment Life is installed, an infallibly good witch or warlock with 9 or more magic skill can use the spell "Expello Mortis", which will reach further out, though it will not be able to reach the middle of a very large pool. Also, in The Sims 2: FreeTime, if the deceased Sim ever summoned a Genie and successfully wished to cheat death, he can plead for his own life even if he's in the middle of the pool.
In The Sims 3, depending on the how happy the Sim was when they died, they can beg for their life. Also, when the Grim Reaper arrives, somewhat "scary" music will play.
In The Sims 2: Pets, there is a different animation for pets that die.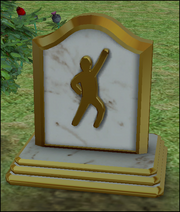 Death, however, isn't always permanent. With a wide range of items and/or cheats, a Sim can be given a second chance in life.
The Sims 2Edit
The Sims 3
Edit
In The Sims 3, there is a special plant called a Death Flower. If a Sim is carrying this flower in his/her inventory at the time of their death, when the Grim Reaper shows up, the ghost will offer him the flower. Seemingly deeply moved by this gesture, the Grim Reaper will proceed to instantly resurrect the Sim. A Sim can be resurrected once for every Death Flower in his inventory. However, it seems that the Sim in question will suffer from any lowered motives, just to a lesser degree, so it is incredibly important to use this second chance to raise these motives before the Sim dies again.
A patch in The Sims 3 makes it possible for a Sim with high Logic skill to play chess for the dead Sim's life[1]. Since chess is a hidden secret skill, that Sim's chances of winning are higher the more practice he or she has. This only works if the death was accidental; it will not help Sims who died of old age.
The Grim Reaper will not take the lives of Sims with the Loser or Unlucky traits if they died prematurely, claiming that their demise was too amusing and predictable. Sims with either of these traits can only die from old age.
In The Sims 3, there is a way to revive a Sim as a ghost, by using a science experiment. After the opportunity is completed, more Sims can be revived for §5,000 per Sim.
In The Sims 3: Showtime, a Sim or pet can be resurrected by making a wish to a Genie.
In The Sims 3: Supernatural, a witch can cast the reanimation ritual to bring them back as a zombie.
In The Sims 3 and The Sims 3 Pets for console, players can resurrect a ghost with the Divine Intervention Karma power.
Intentional Death
Edit
Players can utilize various cheats, objects or game features to intentionally kill a Sim. This may be done for multiple reasons. Ways include:
Using Rodney's Death Creator to kill Sims in various ways.
Using the testingcheatsenabled cheat to lower a Sim's hunger need, thus starving them to death.
Trapping a Sim in a pool by removing all pool ladders[

TS

][

TS2

] or by building a wall around the pool[

TS3

], preventing the Sim from exiting the pool when their motives drop too low, or forcing a Sim to swim when they're fatigued from exercise[

TS3

]. Eventually, the Sim trapped in the pool will drown.
Trapping a Sim in a room, then by some means starting a fire in that room. (i.e. a fireplace or fireworks[

TS:LL

][

TS3:WA

])
Using cheats to trigger aging in an Elderly Sim in The Sims 2 and The Sims 3; since Elder is the oldest life stage, getting older than this results in death.
Having a Sim with low mechanical/handiness skill repair any electrical appliance or having any Sim repair an electrical appliance while standing in a puddle of water may electrocute that Sim.
Having a Sim with no or low mechanical skill repairing a flat screen TV will instantly kill the Sim[

TS

].
Using testingcheatsenabled true you give your sims the death token so that they'll become a deceased ghost when you next boot up the game.[

TS2

]
Types of deaths
Edit
Sims can be killed in a variety of ways which vary by game version. These include death by fire, shock, starvation, flies, being eaten by the cow plant and being scared to death.
Starvation: If a Sim or Pet's hunger bar depletes completely, they will starve. If a sim with low hunger is scared by a ghost, they are also at risk of starving to death.
Drowning: If a Sim uses a swimming pool for too long, they might drown. Swimming with low energy increases the chances of this occuring, but it can happen at random. The pool ladder can be sold once a Sim is in the pool, and eventually they will drown because they can't get out.

A soon-to-be-dead Sim.

Added by

ThisGirlLikesBagels

Fire: If a Sim or Pet is on fire for a period of time, they will turn into ashes and die. In some versions of the game it is also possible for a Sim to randomly burst into flames via spontaneous combustion, though this is very uncommon.
Electrocution: If a Sim uses electrical items while standing in a puddle, or has low Mechanical skill and tries to repair broken electric items, he or she may die of electrocution.
Disease: Sims who play with guinea pigs can be bitten and infected with a disease. The disease is contagious, and a Sim infected with it will die if not treated.
Skydive Simulator:[

TS:S

] If a Sim using the skydiving simulator has low energy, they will be launched to the sky and die.[2] Sims with low moods will not use the simulator; the entrance must be blocked so the Sim cannot leave as their motives deplete. Sims who die in this manner will not be visited by the Grim Reaper.
Toadification:[

TS:MM

] A Sim who has been turned into a toad may be eaten by a dragon, or a cat if The Sims: Unleashed is also installed. When Sims die in this way, they will not be visited by the Grim Reaper; most likely due to the fact that there is no body to take.
Mutant Plant: A mutant plant that's created by incubator can eat other Sims if they are hungry. To avoid this, the mutant plant must be fed regularly. NPCs cannot be eaten, however.
Starvation: If Sims don't eat for a prolonged period of several days, they will starve. Sims who are teens and older can die in this way. babies, toddlers, and children will be taken away by the Social Worker instead if their hunger need is low enough for too long.
Electrocution: If Sims have low Mechanical skill and try to repair broken electrical items, they might be electrocuted and die if their needs drop too low. Sims who are teens and older can die in this way.
Drowning: If Sims swim until their hunger or energy need drops too low, they will drown. The player can remove the pool ladder to prevent Sims from getting out of the pool. Sims who are children and older can die in this way.
Fire: Sims who are caught on fire long enough and are not extinguished while burning will die. This is the only death that isn't caused by need drop. Burning Sims will have a significant need drop until really low, but cannot be lower than -90. This is why Sims will die even if the player constantly uses maxmotives cheat or drags their needs with testingcheatsenabled cheat. Sims who are children and older can die in this way. Babies and toddlers[3] cannot die from fire.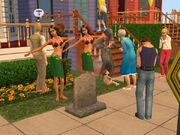 Old age: When elders reach the end of their lifespan, they will die of old age. This way, Sims cannot plead with the Grim Reaper to revive the deceased Sims. Sims can die happily if they are in gold or platinum Aspiration when they die. The Grim Reaper and two Hula Zombies will appear and relaxing music will play. The Sims will pick up their suitcase and walk off with the Grim Reaper. If their Aspiration is lower than gold, the Grim Reaper will show the Sim its hourglass of life and the Sim will try to pull it away from the Grim Reaper, but to no avail, and die. Sims who die in platinum aspiration will get a gold grave with their Aspiration's symbol engraved on it. Sims who die of old age will give inheritances to their family and friends.
Disease: Sims who catch a lethal disease, such as Pneumonia or Mysterious Disease, will eventually die if not treated. Non-fatal diseases, such as Flu or Cold, will not kill Sims, but will eventually turn into Pneumonia if their severity is high. Sims can be cured by resting, taking a cure from the Biotech Station, drinking orange juice[

TS2:S

] or eating Grandma's Comfort Soup[

TS2:FT

]. Sims who are teens and older can die in this way. Children will not die from disease, as they will be taken away by the Social Worker if they reach that point. However, the Social Worker will also take all other children in the family.
Flies: If a lot is too dirty and contains many fly-infested objects, such as dirty dishes, there is a chance that the flies could form a killer swarm when Sims step over a fly-infested object and eat the Sim alive. Servos are immune to this death.
Fright: Sims who see a ghost will have their motives fall drastically. If any four of the needs drop too low, Sims will die. Sims who are teens and older can die in this way. Children will wet themselves or pass out, instead.
Satellite: While Sims are watching clouds (daytime) or stargazing without the telescope (nighttime), there is a very remote chance that a satellite will fall on them. The satellite can be sold in buy mode, but it devalues quickly. Sims who are teens and older can die in this way, as can Servos.
Death for no reason: Some Sims die for no reason, the "mysterious choking death". This is a bug that has been fixed by patches and in later expansions. It is caused by a mistake in the disease coding. In the unpatched base game, pregnant Sims were extremely vulnerable to sudden death.
Scissors: If player downloads the Running with Scissors Playset from the Maxis site and a Sim runs with them, there's a chance he/she may fall and get stabbed. This object is no longer available to download from TheSims2.com because EA permanently shut down the website on January 14, 2013. Servos can die in this way.
Cowplant: Sims who attempt to grab the cake from a hungry Cowplant will be eaten alive. The Grim Reaper does not come when Sims are eaten by the Cowplant. Instead, the tombstone will come directly out of the Cowplant's mouth. Sims cannot plead with the Grim Reaper to resurrect the Sim, nor can eaten Sims plead for their own lives[

TS2:FT

]. Servos can die in this way.
Coffin Scare: Sims can peek in a vampire's coffin with a vampire in it. The vampire may scare the peeking Sims and lower their motives. If Sims' needs fall too low, they will die. Sims who are teens and older can die in this way. This death is similar to death by fright, but they are not the same things.
Wishing Well: If a Sim wishes for money from the wishing well and the wish fails, there is a 25% chance that the sack of money will be worth §1 and kill the Sim outright.
Hail: Sims who are bludgeoned by hail will have their needs dropped significantly. Sims whose needs are too low when bludgeoned by hail will die. Sims who are teens and older can die in this way. Servos are immune.
Lightning: When Sims are struck by lightning and their needs get too low, they will die. Sims who are swimming or in a hot tub have a higher chance of being struck.
Murphy bed: When opening the Murphy bed, if a Sim has less than 5 body skill and -70 or less mood, there is a 5% chance that it will fall on and crush the Sim, killing him/her. The bed will instantly kill the Sim regardless their needs. Their ghost avoids the bed that killed them.
Other causes of death
Edit
Some things that can kill Sims do so by causing a death from the previous list. The game doesn't recognize these types of death as unique deaths.
Starvation: When a Sim goes a long time without eating they can starve to death.
Electrocution: When a Sim tries to repair an object while standing in a puddle or with a low repair skill they have a chance of being electrocuted.
Fire: When a fire starts and a Sim is unfortunate enough to be caught in it they will most likely die.
Dancing on own Grave Stone: When a Sim dies and is brought back to life their gravestone will still be on the lot. The Sim can dance on their own grave, prompting them to be set on fire and die again.
Vitalize: If a Sim use's a vitalize machine while needs are low there is 50% chance they will die
Poison: Making a food using Llama, Beet, Flauxlestra and Squid is going to make any Sim to puke and die.
Sims cannot die in The Sims 2 (Nintendo DS). They will pass out when losing all their sanity, and recover in the Manager's Suite. They lose their sanity by having a low hunger or hygiene need[citation needed]. This is the same with The Sims 3 (Nintendo DS).
Starvation: When a Sim goes a long time without eating they can starve to death. Vampires' hunger need will decrease faster in the sun, which can cause them to die from starvation faster.
Headache: If a Sim's headache need is not filled, he/she may die after a long period of time.
Vitalize: If a Sim uses a vitalize machine while their needs are low there is 50% chance they will die.
Drowning: If a sim relaxes or sleeps in the water bed they have a slight chance of facing Death.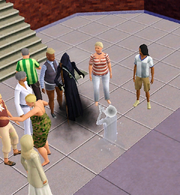 Fire (children and older): If a Sim is on fire for one hour, then he/she will die. (Sims with the Daredevil trait or the hidden Pyromaniac trait take three hours to die; those with the hidden Immune to Fire will not die.) Fire can result from leaving something on the stove for too long, although there is a low possibility that the stove randomly catches fire. Fires can also start when Sims with level 6 inventing skill detonate an object, or fail when trying to invent something with the Scraptronic™ Workbench in Ambitions. In Seasons, Sims can experience spontaneous combustion, which may kill them.
Drowning (children and older): Can happen if the Sim is too tired and has the "Fatigued" moodlet. If the Sim is unable to exit the pool, (walls around the pool, etc.) then they will drown.
Electrocution (teens and older): Happens if a Sim gets electrocuted and receives the "Singed" moodlet. A Sim can get electrocuted if their Handiness skill is too low, or if they are standing in a puddle while repairing an object.
Starvation (teens and older): If a Sim with the "Starving" moodlet does not eat before the moodlet expires, they collapse, and die. There have been reports where Sims die by choking from participating in the eating contest from Seasons, though this is essentially a game glitch which actually addresses it as death by starvation.[4]
Old Age (elders): The Sim reaches the end of the elder stage and dies.
Cow Plant: Cow Plant can be purchased from the store. If Cow Plant isn't fed for certain amount of time, it will pull out a slice of cake, and Sims will try to grab it and be eaten, just like the way in The Sims 2: University. Player can purchase it here.
Mummy's Curse: If a Sim loses a fight to a mummy, he/she is cursed, and receives a moodlet indicating this. In 14 days he/she will die by turning into dust. The curse can be cured with a visit to The Great Sphinx.
Meteor: If a Sim stands outside for a while, there is an unlikely chance you will get a note saying that it has suddenly gotten dark. A meteor shower is a rare in-game event that can occur in any world. If you don't move your Sim the meteor will crush the sim, ending his/her life. This is more likely to happen while using a telescope. Sims near the impact may catch fire, and windows and furniture of your sim's house may be damaged from the impact if it struck their home lot.
Thirst: Replaces death by starvation for vampires. Only vampires can die from this way.
Old Age: (Pets only) Pets can die from old age
Human Statue: When a magician who performs the Buried Alive trick from the Box of Danger fails the trick, there's a chance he/she will die. The trick is unlocked at level 7 of Magician career.
Watery Grave: When a magician who performs the Watery Grave trick from the Box of Danger fails the trick, there's a chance he/she will die. The trick is unlocked at level 9 of Magician career. Although both deaths seem to be similar, they're treated as distinct deaths in the game.
Jelly Bean: There is a slight 1% chance that a Sim can die of eating a "Magic Jelly Bean" from the Magic Jelly Bean Bush.
Haunting Curse: Witches with at least a level five of Spellcasting (hidden skill) can die if his attempted Haunting Curse spell fails and backfires on him. If successful, a Sim affected by this spell may die of Haunting Curse.
Transmutation: A Sim who uses The Philosopher's Stone may have a chance of turning into a gold statue when transmuting objects into gold. If so, he will pose while turning into gold and die. The gold statue of his expression at the time of death will remain an object for Sims to keep.
Freezing: Sims can freeze to death if they are too long outside in an extremely cold temperature.
Spontaneous combustion: Sims can overheat if they are outside in the heat too long, or from outdoor activities. Overheated Sims may be told to cool down; a Sim who does not may spontaneously combust. If a Sim dies as a result of spontaneous combustion, it is considered a form of death by fire.
Blunt Force Trauma: Sims may die when they fail to open or close a Murphy bed, which will crush them to death. They can also die in this death by getting crushed by a vending machine while slamming or shaking it to try to get free candy.
Ranting: There's a chance Sims will get a warning from the Grim Reaper when they rant about death. They will get a moodlet that will last for 12 hours. If they rant about death within the time, the Sim will die.
Running out of Air: While scuba-diving, Sims can run out of air which can cause them to die. [5]
Shark Attack: A shark may appear while Sims are scuba diving. Sims can avoid the shark by hiding inside an underwater cave. The shark might attack the Sim, resulting in death.
Dueling: Knights, Monarchs, and Spies have the option to duel to the death (as opposed to merely dueling to a knockout or surrender). The loser of such a duel will die.
Plague: Medieval Sims can fall ill and die of the plague. It is the physician's job to prevent this from happening. This is a reference to the black death epidemic.
Murder: Sims can kill other Sims. Some examples include being poisoned by a Spy, or being killed by a Wizard's spells.
Execution: Sims can be sent to execution for various reasons, including failing to do their jobs. Sims are executed by being fed to a monster.
Starvation: If a Sim doesn't eat for a long period of time (several days), they will starve and die.
References
Edit