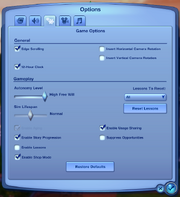 Edge Scrolling
is a feature of
The Sims games
that was introduced in
The Sims
and has appeared in all games since. It allows the player to move their view by scrolling the screen when the mouse is at its edge. However, edge scrolling cannot be used if the game is running in windowed mode.
Edge scrolling is enabled by default in The Sims, The Sims 2 and The Sims Stories, but is disabled by default in The Sims 3 and The Sims Medieval. In all games, it can be enabled or disabled from the game options screen.
Ad blocker interference detected!
Wikia is a free-to-use site that makes money from advertising. We have a modified experience for viewers using ad blockers

Wikia is not accessible if you've made further modifications. Remove the custom ad blocker rule(s) and the page will load as expected.