Eleanor Waterson

Name
Eleanor Waterson
Gender
Female
Age
Elder
Life state
Sim
Education and Employment
Career

Unemployed
Waterson family
Romances
Hal Waterson 
Marital status
Widowed
Zodiac sign
 Scorpio
Lifetime wish

| | |
| --- | --- |
| | The Tinkerer |
Favorites

 Indie

 Cookies

 Pink
Appearance
Hair color
 Grey
Eye color
 Blue
Skin color
 Tan
Body shape
 Fat
Eleanor Waterson is a Sim who lives in Sunlit Tides. She lives in the comfort of a fullfilled life, and after her husband's death, she spends her time watching what happen on the island waiting for her own demise. Still, someone told her that her husband's ghostly self was spotted in the Cemetery, giving her the hope of reuniting with him before her death.
Eleanor has no relationships at the start of the game.
Eleanor Waterson is mentioned in one of the object descriptions from The Sims 4: Movie Hangout Stuff.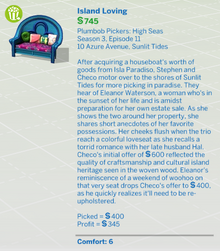 Ad blocker interference detected!
Wikia is a free-to-use site that makes money from advertising. We have a modified experience for viewers using ad blockers

Wikia is not accessible if you've made further modifications. Remove the custom ad blocker rule(s) and the page will load as expected.