Electrocution
Talk

0
7,784pages on
this wiki
Electrocution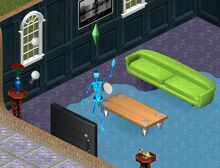 A Sim is electrocuted in The Sims.

Electrocution can be a painful, and even fatal result of repairing electrical or electronic devices. The lower a Sim's mechanical skill level is, the more likely electrocution becomes, but it can happen even to Sims whose mechanical skill is high. It can also be triggered when the Sim is standing in a puddle while doing the repairs. Sims can call a Repairman to avoid this possible death, though there is a small chance that the Repairman will also be electrocuted.
The Sims Bustin' Out (on console)
Edit
In The Sims Bustin' Out on console, one item in electronics is a bug zapper. An adult Sim has the option to "Touch" a bug zapper, and can be electrocuted, but will not die. It does increase their energy motive and decreases other motives.
The Sims 2
Edit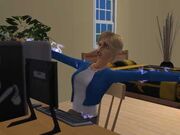 In The Sims 2, electrocution causes a large drop in all of a Sim's needs. If this puts three or more of the Sim's needs at extremely low levels, he or she will die. Sims who survive electrocution get the "Shocked" memory. Their hair will be burnt after being electrocuted, and their faces will be smudged. This can be fixed by bathing or showering or using the "Change Appearance" option on a mirror. With the addition of Influence in the University expansion pack, it is possible for non-controllable Sims to be electrocuted when Influenced to do repairs. Seasons adds the further risk of being electrocuted by lightning.
In The Sims 2 (console), Sims with low mechanical skill can also get electrocuted while operating a DJ machine. Usually this will happen while deploying the machine effects (laser, fog, and fireworks). This will also cause the Sim to die.
The Sims 3
Edit
In The Sims 3, Sims get the singed moodlet after getting electrocuted for the first time. The lightning will cause the Sim to have burned clothing and messed up hair. If the Sim gets electrocuted again while the singed moodlet is present the Sim will die.The electrocuted ghosts look yellow and have electric currents in their body. Sims usually become electrocuted if they try to repair an object with a low handiness skill, or if an upgrade fails on an object.