Elliot household

Description
'Jackie Elliot and Felicia Lin are your run of the mill town residents. Stylish and sweet, these women could never be Jackie and Felicia, the jewelry and art thieves on the run from the law. Could they?'
Name
Elliot household
Members
Jackie Elliot, Felicia Lin
Lot
68 Velkominn Road
Funds
§20,000
Difficulty level
The Elliot household can be found in the downloadable neighborhood, Aurora Skies. It consists of Jackie Elliot and Felicia Lin, who appear to be average residents, however they are actually thieves on the run from the law.
Jackie and Felicia are mentioned in one of the object descriptions from The Sims 4: Movie Hangout Stuff.
Members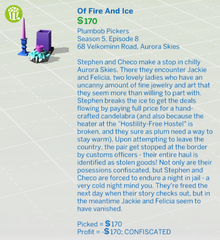 Ad blocker interference detected!
Wikia is a free-to-use site that makes money from advertising. We have a modified experience for viewers using ad blockers

Wikia is not accessible if you've made further modifications. Remove the custom ad blocker rule(s) and the page will load as expected.