Executioner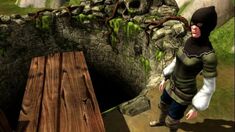 An executioner standing next to the "pit of judgment", where people get pushed in when sentenced to death.
The Executioner is a village character in The Sims Medieval. The executioner lives in a small hut next to the pit of judgement where Sims get punished by death. The Executioner is almost always outside their hut and occasionally feeds the beast. The Executioner does not arrest people and does not put them in the stocks. The Constable handles the arrest of Sims.
This Sim can be romantically involved with hero Sims, but can't leave their post to visit a hero's home and WooHoo. As well, hero Sims can't propose marriage to the executioner. The game says that they are not interested in a long-term commitment. The executioner's job is to force Sims to jump in the Pit of Judgement. The executioner sometimes appears in quests.
Ad blocker interference detected!
Wikia is a free-to-use site that makes money from advertising. We have a modified experience for viewers using ad blockers

Wikia is not accessible if you've made further modifications. Remove the custom ad blocker rule(s) and the page will load as expected.