Family (aspiration)
Talk

0
7,764pages on
this wiki

Family
is an
Aspiration
in
The Sims 2
. Family Sims aspire to get
married
and have
children
, as well as having "Quality Time" with their family members. Starting as a
teenager
, Sims already want to fall in love and go steady with their lover. The next important phase for Family Sims is in
Young Adult
or
Adult
: to get engaged and
married
. After that, they will usually want to have many babies. Teens will want to go steady with another Sim. Elders will want grandchilden.
As the Sims' family is growing, they will want their grownup children to get engaged and married, and eventually want to see their grandchildren. Family Sims will love to spend their quality time in Winter[TS2:S], since it's the time to spend with family. Also, they want to constantly keep pets[TS2:P].
Aspiration Monikers
Edit
| Level | Teen | Adult | Elder |
| --- | --- | --- | --- |
| Platinum | Shining Example | Family Rock | Town Father / Town Mother |
| Gold | Pride and Joy | Role Model | Patriarch / Matriarch |
| High Green | Good Son / Darling Daughter | Good Influence | Sire / Matron |
| Low Green | Routine Relative | Solid Provider | Sweet Old Coot |
| Low Red | Bad Seed | Brood Bungler | Grumpy Gramps / Grumpy Grams |
| Deep Red | Family Flunk Out | Black Sheep | Creepy Crank / Creepy Crone |
Wants & Fears
Edit
Get Engaged
Fall in Love
Child is an overachiever
Child gets A+ on report card
Help Child with Homework
Get Promoted
Relative Gets Married
Relative Gets Engaged
Get a grandchild
Have # grandchildren
Get a New Relative
Get rejected for first kiss
Get rejected for Go Steady
Sim grows up badly
Sim dies
Sim grows up badly
Death of Sim

Get demoted
Get left at the altar
Break up
Relative breaks up
Be old and never married
Die alone
Pet is removed
Pet runs away
Notes
↑

For most Sims, this is a 5,000 point Want, but for Family Sims, it is an 8,000 point Want.
Lifetime Wants
Edit
Aspiration Desperation
Edit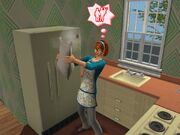 Family Sims have high-impact fears about relatives dying, losing friends and being rejected for interactions by their children or grandchildren. Sims who reach aspiration desperation will pull out a sack of flour with a face painted on it and will begin to rock and cuddle it, as if it was a baby.
Freetime Aspiration Benefits
Edit
Level 1 - Grandma's Comfort Soup
Level 2 - Slower Fun and Comfort Motive Decay
Level 3 - Plead with social worker
Level 4 - Super Fertility
Premade Sims With Aspiration
Edit
For a complete list, see Category:Family Sims.
Tips & Tricks
Edit
It is not recommended to pair a Romance Sim with a Family Sim, as their wants will clash.
If one wants to pair a Family Sim with someone that doesn't also have the Family aspiration, the easiest are a Fortune Sim or a Knowledge Sim, since their wants won't clash very easily. Fortune Sims make particularly good partners for Family Sims, as their desire to earn raises and promotions will leave their spouses free to be homemakers and stay-at-home parents. Knowledge Sims make good co-parents for Family Sims, as they roll wants to teach toddler skills and study skills more frequently than most other aspirations.
You should create a family Sim married or at least with one (or more) children, because most of the family Sims' lifetime want is "marry off six children" (or "have six grandchildren") and that is something very hard to achieve, so you have to make a lot of children, and fast. Also recommended is to adopt children when they are children and not babies or toddlers.
Sometimes Family Sims get "Have a Child" as both a want and a fear. It's unknown why this happens, though it may be because they have just had a child and don't want the stress of another even though the aspiration makes them want one. Still, having another child is worth a net 3,000 ASP.
When returning from work, Family Sims will occasionally launch into an "I'm home!" animation, even if no one else is home. This can be stopped by canceling the "At Work" icon in the Sim's action queue, but if it is not canceled, it will run for about 30 game minutes.