Alice Mia

Biography
Alice is one nice kind lady. She likes to travel anywhere, be it China, France or Egypt. But not only is Miss Mia wanting to travel, she wants to be a worldwide famous singer. And we all think Alice will be the best singer of Starlight Shores! She also wants to raise a family.
Name
Alice Mia
Gender
Female
Age
Young Adult
Life state
Normal
Education and Employment
Career
Star
Family
Marital status
Single
Lifetime wish

| | |
| --- | --- |
| | Vocal Legend |
Favorites
 Electronica

 Frogs Legs

 Violet
Appearance
Hair color
 Blonde
Eye color
 Brown
Skin color
 Light
Social Standing
Celebrity status
Alice Mia (a.k.a Ali) is a sim who lives in Starlight Shores . She likes to travel and dreams of becoming Starlight Shores next big pop sensation!
Biography (The Sims 3)
Edit
Alice Mia moved to Starlight Shores alone after graduaton. She brought no family or friends, it was just her and her Electrol 3X. Alice decorated her home then set straight off to France, collecting lovely souvenires along the way. Alice started doing sing-a-grams to build herself up the career ladder of a Singer. Alice's stage name is "Ali" (originally Lady Alice and Princess Ali). Alice's debut album called Alictronic.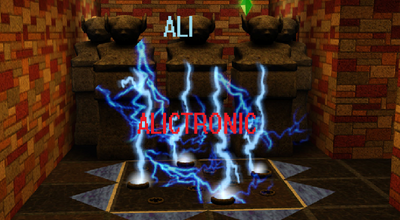 Discography
Edit
Oogie Fever
One More Grey Day
New Glitz
Maybe It's Better This Way
It Hurts Both Ways
Don't Say Not Now
Hot and Foxy
Alictronic Track Listing
Edit
Hot and Foxy
Je t'aime
Ping and His Checkers
Oogie Fever
It Hurts Both Ways
New Glitz
One More Grey Day
Phillipes Kenspa
Dont Say Not Now
Maybe It's Better This Way
Wig Wig Wag
Freeing Myself
We're Moving Slow
New Glitz (acoustic version)
Freeing Myself (duet version) (featuring Sadie Mason)
Biography (The Sims 4)
Edit
Alice returns in The Sims 4 living in Oasis Springs. She starts off as a child, and her family is revealed. She lives with her mother Princess, father Jaxton and twin brother Kellan. Also in the novel "Flame & Emerald: Sisters For Life" by Nina Caliente, in the description it states that in the movie version Alice Mia and Eve Minx star in the lead roles, and that Alexander Goth's daughter Bella Goth II wrote the music. However due to Nina's death from a cardiac explosion, the novel was never published and the movie was never released.