Fanon article ownership
This fanon page was created and is owned by
Funkey Kong
(
talk
). Unless the edit is constructive and/or minor (such as fixing a template), please do
not
edit this page unless given permission from the author.
NOTE: I FUNKEY KONG HAVE NOT CREATED THIS WORLD, I AM NOT PRETENDING THAT I HAVE DONE SO, I WAS ONLY THE PERSON THAT CREATED THIS SIMS WIKIA PAGE!
Aluna Island

Aluna Island is a brand new and exciting world for your Sims 3 game!
Name
Aluna Island
Game(s)
The Exchange
Aluna Island is a world available for download on The Exchange. Download Here
Aluna Island is made up by one large main island, and a smaller island with a lighthouse. The world is created with all Expansions and Stuffpacks but will also be available in a Base Game-only version. At the moment all of the Base Game Rabit-Holes are all located in the world, and there is also an official Park, Art Gallery, Graveyard and some Beaches. Currently the World has 70 lots(including Rabit-Holes), which 2 of them are under water. The world has also a lot of Cliff-lots with houses builded on them.
Residential Lots
Edit
Uninhabited
Edit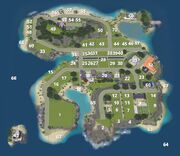 Community Lots
Edit
Rabbit-Holes not counted
Note, there are no actual official Families living in this World. This list is just suggestions of Families that might end up living here!
Bigwallet family Does not live here yet
Ellsworth family Does not live here yet
Elise family Does not live here yet
Funke family Does not live here yet
Stencil family Does not live here yet
The first 'Let's build a World Series where The Sim Supply was creating this world was uploaded 18 January 2013 but was canceled only after 2 episodes. The third wasn't going to come out until 18 February 2014, more than a year after the first one.
The whole building process of creating this world is watchable on The Sim Supply YouTube channel. There are 10 episodes which all is 15 minutes long.
All of the official houses is created by The Sim Supply and he has a let's build for all of them, even the Rabbit Holes!
You can download this world yourself and create houses for it, then upload the houses to The Sim Supply's official website.
The Sim Supply has stated the tall of the houses he is going to build in the sims 3 in the future will all be lots for this world.
Aluna Island is named after the sim Aluna Ellis from The Sim Supply's The Sims 3: Island Paradise let's play.
The first ever let's play that Deligracy made was located in this world.
There is a story about the Haunting Aluna Lighthouse that is based on The Sim Supply's trouble to upload the lot Aluna Lighthouse. It was later discovered to be a glitch with an aqua slide that caused the game to crash.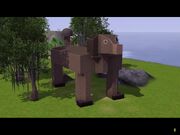 On Aprli 1:st 2014, The Sim Supply uploaded a Building video where he created a giant poodle on the biggest 64x64 lot. This was of course an April Fools Prank!