Ariana Vandermorgan

Name
Ariana Vandermorgan
Gender
Female
Age
Elder
Life state
Ghost
Education and Employment
Career
Retail Employee
| | |
| --- | --- |
| Aspiration |  Painter Extraordinaire |
Appearance
Hair color
 Grey
Eye color
 Brown
Skin color
 Tan
Body shape
 Skinny
Other Information
Game
The Sims 4
Playability
Deceased
Cause of death
Old Age
World
Oasis Springs
Ariana Jacqueline Vandermorgan
is a
Sim
living in Oasis Springs.
Biography
Edit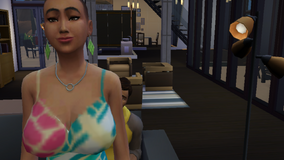 She was conceived by Lyla Vandermorgan and Don Lothario as the two had a brief relationship. Lyla's abusive ex-husband had been spotted in the village, so to keep the newborn Ariana safe, Lyla's friend
Olive
 moved with the baby and raised Ariana from a baby to a child. Lyla and Ariana reconciled when Lyla's ex-husband moved away. Olive became Ariana's stepmother after she married Lyla, but Olive died after the wedding. Lyla and Ariana moved into a new house and Lyla married
Vivienne LaFleur
. When Lyla aged into an elder she died of exhaustion, the same way as Olive. Ariana's father left Oasis Springs and was never seen again. As the only remaining member of the family, Vivienne raised Ariana from child to teen. Through Ariana's time dealing with difficult times she became a skilled artist. As a teen Ariana put on a bit of weight and shaves her head, bearing a resemblance to real-life Irish singer Sinead O'Connor. But by the time she became a young adult, she had lost all the weight she put on and grew some hair. After getting drunk and having an awful hangover, Ariana decides that this is a wake-up call to start being serious about her life. So she adopts a baby girl and decided to raise her as a single parent. Ariana adopts a son a while after and names him Maxwell. Ariana had also began running a children's home named "Ari's Home for Kids". Danielle later becomes pregnant by an older married man, James Ru, and Ariana agrees to support Danielle and the baby. Danielle gives birth to a boy named Jedd. When Danielle gets married and becomes pregnant again, Danielle gives birth to a girl named Lisa. Ariana has five grandchildren, Jedd, Lisa, Kim (from Danielle), and Maxzajita and Xirkwell (Maxwell's alien-sim hybrid children). Ariana worked at Danielle's store "Delicious Danielle's", and subsequently died in the store of old age. "Ari's Home for Kids" is passed on to Maxwell and his wife, and the next heir being Maxzajita. One of the children who grew up in Ariana's care, Clara Hiatt, became Police Chief, proving that Ariana did her job well, even though only one child was adopted from her.
As her mother Lyla Vandermorgan is really Lyla Grunt, Ariana is technically the half sister of Tank Grunt, Ripp Grunt, and Buck Grunt. However they don't exist in The Sims 4, but the creator (Carman39) added a creation of Buzz Grunt into the world for a brief time.
Nervous Subject was briefly her step-brother, and former stepmother Vivienne was technically her adoptive mother as she raised Ariana up to teenage years after Ariana's parents and stepmother died, Olive (Ariana's other former stepmother) is also technically Ariana's former adoptive mother as Olive raised Ariana up from the baby to child life stages.
The creator named her after American singer Ariana Grande, as at the time of Ariana's birth, the creator was listening to Grande.