Fanon article ownership
This fanon page was created and is owned by
NachoNate13
(
talk
). Unless the edit is constructive and/or minor (such as fixing a template), please do
not
edit this page unless given permission from the author.
Not to be confused with the Beaker Family
Beaker Family

Description
While she was perfectly happy living with her roommates, Erin's psychic abilities told her to come here. She has no idea what's in store, but she's sure to figure it out -- eventually.
Name
Beaker Family
Members
Erin Beaker
Number of generations
3 generations
Difficulty level
Other Information
Game
The Sims 3
Neighborhood
Marina City
The Beaker Family is a fanon household that lives in Marina City. The family contains a post-Sims 2 version of Erin Beaker.
The family bio hints that Erin is a new resident in the city, and that she has some type of psychic abilities. Her roommates don't make an appearance in this world, as Erin left them to follow her senses.
Onomatology
Beaker: a glass object used for measuring and holding fluids in a laboratory setting.
Erin: From Eireann, meaning Ireland.
Family tree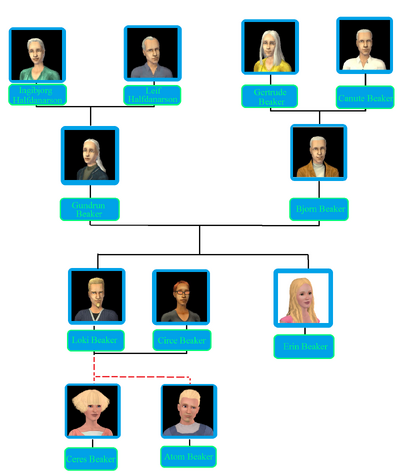 Members
Author's Note
This family, as with all the families I have created/will create, will be updated once I get the Sims 4.
The link to download the Beakers is as follows: http://www.thesims3.com/assetDetail.html?assetId=8263095