Fanon article ownership
This fanon page was created and is owned by
Ariel Baron
(
talk
). Unless the edit is constructive and/or minor (such as fixing a template), please do
not
edit this page unless given permission from the author.
Isabella Rose Hartley

Biography
Bella Hartley never asked to be bullied or to have a hard life. She never asked to meet Ross either. Rella be a success or failure? Or will other people ruin it?
Name
Isabella Rose Hartley
Gender
Female
Age
Young Adult
Life state
Mermaid
Education and Employment
Major
Science and Medicine
Career
Superstar
Zodiac sign
 Leo
Lifetime wish

| | |
| --- | --- |
| | Vocal Legend |
Favorites

 Pop

 Kelp

 Irish Green
Appearance
Hair color
 Blonde
Eye color
 Blue
Skin color
 Tan
Body shape
 Thin
Social Standing
Celebrity status
Isabella Rose Hartley

Name
Isabella Rose Hartley
Gender
Female
Age
Young Adult
Life state
Sim
Education and Employment
Career
Entertainer
| | |
| --- | --- |
| Aspiration |  Musical Genius |
Appearance
Hair color
 Blonde
Eye color
 Blue
Skin color
 Tan
Body shape
 Thin
Other Information
Game
The Sims 4
Playability
Playable
World
Willow Creek
Isabella "Bella" Rose Hartley (born July 27, 1984) is an SimNationan singer, songwriter, philanthropist, and actress.
Early Life
Edit
Isabella Rose Hartley was born on July 27, 1984, in Isla Paradiso, SimNation to Wilbur and Violet Hartley (née Violet Parr). She has an older brother named Jason (born 1982) and a younger brother named Gabriel (born 1988). She was raised by a jewish parents, and although she considers herself as an agnostic woman, she made sure her children would learn to speak fluent hebrew at a young age.
Personality
Edit
Bella is a bit withdrawn and sensitive because she's a mermaid, meaning that she can be afraid to reveal herself, but cares deeply for her friends. Bella is also described as being a bubbly ball of energy that is easy to talk to.
Appearance
Edit
Bella has honey-blonde hair that cascades down past her shoulders. It appears to be a naturally wavy texture, as evidenced when she wears it loose. She often styles it by braiding it to the side. Usually, she wears it down. Bella's eyes are ocean blue, and she has a bronzed complexion. Bella has a slim yet curvaceous figure. She wears colors that reflect more earthy tones, such as greens, blacks, and flowery designs. Bella is never seen without her signature blue necklace.
When Bella come into contact with water, she grow long copper colored tail and a matching top. Her tail is covered in scales and end in a classic dolphin-shaped fluke. She also have a short dorsal fin running along the back of her tail from her waist to a little more than halfway down the tail. Once her body is completely dry, she turns back into human along with the outfit she was wearing before she transformed.
Bella's individual mermaid power is threefold, she can group together water particles to turn it into jelly, she can turn it solid hard with a fist gesture and waving her hand and she has the ability to explode water or jelly. Her power usually stops working after a few seconds, but if she concentrates on making it permanent, the water substance will remain in the same state forever.
Fame and Fans
Edit
Bella is a very famous singer in SimNation, and in other parts of the world, such as the US, the Middle East, Europe, and Asia. She has a lot of fans, called "Hartories". She starred in some TV shows and films, but her main career is singing. In 2011, Bella and Justin broke up, due to an unknown reason. She developed depression and started to self-harm. She developed various eating disorders such as bulimia. In 2012, Bella went into a treatment centre to help with her issues, and after three months in treatment, she got out. In 2013, a short time after her release from treatment, she started to date the lead singer of the band R5, Ross Lynch.
As an Actress
Edit
She began her acting creer at the age of 7, on the kids show Barney & Friends, and stayed there for two seasons. Later, she played on the Disney channel's shorts series, As the Bell Rings as Charlotte Adams. She was later on the hit Disney channel movie, Camp Rock, on 2008, and it's sequel Camp Rock 2: The Final Jam on 2010. On 2010 She also stared on her own Disney channel TV show, Sonny With a Chance, and did two more Disney channel movies, 16 Wishes and Radio Rebel, before leaving the channel to focus more on her music. On 2011 she voiced Smurfette on The Smurfs movie, as well in the 2nd film. She was a judge and a mentor on the second and third seasons of The X Factor. She guest starred 4 episodes of the fifth season of the hit TV show Glee. On 2015, she played the lead rule of Gigi in the FX comedy Sex&Drugs&Rock&Roll and also sang ten songs in the show's soundtrack. Hartley would give her voice to the Character of Lenore in Charming (2016) and would return to the role of Smurfette in Smurfs: The Lost Village (2017). She would star in the live adaptation of the 1994 cartoon film The Swan Princess as Princess Odette, and in the film adaptation of the book After as Tessa Young.
As a Singer
Edit
Bella is a very talented singer, and has been singing since she was a kid. Her musical genres are mostly soft rock, and pop-rock. She was in her school's choir. In her last year in school, she released her first album, "Don't Forget". A year later, another album came out, "Here We Go Again". Two years later, her third album "Unbroken" came out. In the beginning of 2013, she released her forth album, simply called "Bella". On 2014, she released two more EPs, the edgier "One" and the platinum seller "Bella Hartley", both with big hits as "Hit Me Up" and "Mulholland Drive". Later on summer 2015, she announced about the single "Cool for the Summer" from her upcoming fifth album, "Confident". Her sixth album, "Infatuation", was released in 2016. Hartley stated pop singers Kesha and Carly Rae Jepsen as her musical inspiration.
Discography
Edit
Main article: Bella Hartley discography
Studio albums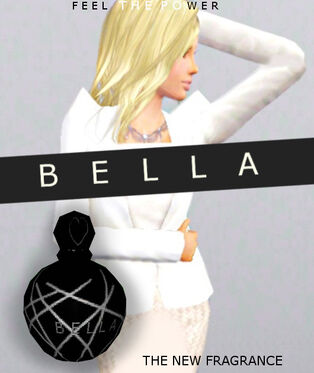 Here We Go Again (2009)
Unbroken (2011)
Bella (2013)
Confident (2015)
Infatuation (2016)
Collaborative Album with R5 (2017)
EPs (Extended Plays)
Be Like a Popstar (2004)
One (2014)
Bella Hartley (2015)
Reissues
Fairest of Them All (2015)
Soundtrack albums
Camp Rock (2008; 4 songs)
Sonny with a Chance (2009; 4 songs)
Camp Rock 2: The Final Jam (2010; 9 songs)
16 Wishes (2010; 2 songs)
H2O: Just Add Water (2011; 12 songs)
Radio Rebel (2012; 3 songs)
Glee Sings the Beatles (2013; 1 song)
The Mortal Instruments: City of Bones (2013; 1 song)
Frozen (2013; 1 song)
Sex&Drugs&Rock&Roll: The Music (2015; 10 songs)
Angry Birds: The Movie (2016; 1 song)
The Swan Princess (2017; 9 songs)
Bella Hartley: Live in Concert (2009–10)
A Special Night with Bella Hartley (2011–13)
The Neon Lights Tour (2014)
Bella World Tour (2014)
Future Now: The Tour (2016) with R5
Wet and Wild Tour (2016) (Australia only)
Skincare Kits
Edit
Staying Strong: A Journal (2014)
Filmography
Edit
Title
Year
Rule
Notes
"As the Bell Rings"
2007
Charlotte Adams
Main role (Season 1)
"Camp Rock"
2008
Mitchie Torres
TV film (Disney Channel Original Movie)
"Princess Protection Program"
2009
Princess Rosalinda/Rosie Gonzalez
TV film (Disney Channel Original Movie)
"H2O: Just Add Water"
2009–10
Herself
Lead role
"Sonny with a Chance"
2009–11
Sonny Munroe
Lead role; Disney Channel Original Series
"Camp Rock 2: The Final Jam"
2010
Mitchie Torres
TV film (Disney Channel Original Movie)
"16 Wishes"
2010
Abigail "Abby" Jensen
TV film (Disney Channel Original Movie)
"R.L. Stine's The Haunting Hour"
2011
Stefani Howard
"Wrong Number" (Season 1, Episode 16)
"The Smurfs"
2011
Smurfette
Voice
"Bella Hartley: Stay Strong"
2012
Herself
MTV Documentary
"Radio Rebel"
2012
Tara Adams
TV film (Disney Channel Original Movie)
"Austin & Ally"
2012
Jessie Prescott
"Austin & Jessie & Ally All Star New Year" (season 2: episode 6)
"The X Factor"
2012–13
Herself
Judge/mentor
"The Smurfs 2"
2013
Smurfette
Voice
"Glee"
2013-14
Danielle "Dani"
Recurring role; season 5 (4 episodes)
"Sex&Drugs&Rock&Roll"
2015-present
Gigi
Lead role
"From Dusk till Dawn"
2015
Maia
Guest star
"Charming"
2016
Lenore
Voice
"Smurfs: The Lost Village"
2017
Smurfette
Voice
"The Swan Princess"
2017
Princess Odette
Live version actress
"After"
TBA
Tressa "Tessa" Young
Lead role
Back in 2009, Bella used her Science and Medicine degree from Sims University, and her money, for seceretly researching dinosaurs DNA, looking for way bring them back to life. It was something that she dreamed about since she was a kid.
In 2010, Bella founded InGen (Internatiional Genetic Technologies Inc.). InGen is based in Palo Alto, California, and has one location in Europe, Nevertheless, most of InGen's research took place on both the islands of Isla Sorna and Isla Nublar. InGen founds out that the cloning is possible by extracting the DNA of dinosaurs from mosquitoes that had been preserved in amber. However, the strands of DNA were incomplete, so DNA from African frogs was used to fill in the gaps. The dinosaurs were all cloned genetically as females in order to prevent breeding.
First InGen tried their way on extinct mammals, such as the Quagga. After they found out it's working, they moved to dinosaurs.
Then she started to build a park on Isla Nublar, a tropical island 120 miles west of Costa Rica. InGen coloned the animals on Isla Sorna, another island near Costa Rica. The original InGen's list contained 18 species of extinct creatures (only 14 of them cloned for the original park), but another 13 creatures added later in Phase II and Phase III, with plans about Phase IIII in 2015 (Which according to Hartley, is the last Phase).
In 2014 InGen annoucced that Jurassic Park going to be closed temporarly unril summer 2015, since the park been redesigned. The dinosaurs moved to Isla Sorna for this time.
Relationships
Edit
Cofirmed Relationships
Cella (Cody Martin & Bella Hartley)
Jusella (Justin Russo & Bella Hartley)
Rella (Ross Lynch & Bella Hartley)
Rumored Relationships
Della (Dylan O'Brien & Bella Hartley)
Cody Martin
Edit
Cody and Bella were dating for one year, before he was cheating on her. Bella talked about him in her documentary film:
"I think--I think when it's all over, It just comes back in flashes, you know? It's like a kaleidoscope of memories. It just all comes back. But he never does. I think part of me knew the second I saw him that this would happen. It's not really anything he said or anything he did, It was the feeling that came along with it. And the crazy thing is I don't know if I'm ever gonna feel that way again. But I don't know if I should. I knew his world moved too fast and burned too bright. But I just thought, how can the devil be pulling you toward someone who looks so much like an angel when he smiles at you? Maybe he knew that when he saw me. I guess I just lost my balance. I think that the worst part of it all wasn't losing him. It was losing me. I don't know if you know who you are until you lose who you are."
Justin Russo
Edit
Justin and Bella were married for two years, in which they had a son together, named Chris. On 2011, reports surfaced that Russo had physically assaulted her. He was arrested on suspicion of making criminal threats. On March 5, 2011, Russo was charged with assault and making criminal threats. On June 22, 2011, Russo pleaded guilty to felony assault. Russo received five years probation and was ordered to stay fifty yards (46 meters) away from Hartley, unless at public events, which then would be reduced to ten yards (nine meters). As a result from the incident, she was driven into depression and was self-harming. She developed an eating disorder and she checked herself into rehab. After three mouths in treatment, she got out. Worried of her mental state, a judge has decided that their son, Chris, would stay with father, but would be allowed to see his mother at any time.
Ross Lynch
Edit
On 2014, short time after her release from the treatment center, Bella started to date with the lead singer of the band R5, Ross Lynch. After time the couple announced they're waiting for a baby. Then the twins Jasmin and Jake came out. Then, Ross proposed Bella to marry him and the couple got married on March 21, 2015. Later that year, they announced they're waiting for another baby girl. On May 11, 2015, a series of pictures got online and featured ostensibly Lynch kissing and holding hands with the Australian actress Courtney Eaton. No reply from Hartley or Lynch has received yet.
Dylan O'Brien
Edit
On sptemper 2014, a series of servel photos of Hartley and the American actor Dylan O'Brien together posted online, and rumored that Hartley and O'Brien are dating. Though Hartley claimed that the rumor is incorrect.
While the original character is based on Isabella Hartley from "H2O: Just Add Water", it was influenced directly and/or indirectly by Demi Lovato, Debby Ryan, Kate Alexa, Elizabeth Gillies, Indiana Evans, Lilly Singh, Gia Farrell, Wizards of Waverly Place, Mako Mermaids, Teen Wolf, Jurassic Park, Good Luck Charlie, The Incredibles, The Little Mermaids, Meet The Robinsons & The Suite Life on Deck. All rights reserved to the original creators, owners and/or presona(s).
Bella Hartley
Moves Me · Open · Shadow · Stronger · Trash

La La Land · Get Back · Trainwreck · Party · On the Line · Don't Forget · Gonna Get Caught · Two Worlds Collide · The Middle · Until You're Mine · Believe in Me · La La Land (Caramel Pod D Remix) · Back Around · Behind Enemy Lines · Lo Que Soy

Here We Go Again · Solo · U Got Nothin' On Me · Falling Over Me · Quiet · Catch Me · Every Time You Lie · Got Dynamite · Stop the World · World of Chances · Remember December · Everything You're Not · Gift of a Friend · So Far So Great

All Night Long · Who's That Boy · You're My Only Shorty · Together · Lightweight · Unbroken · Fix a Heart · Hold Up · Mistake · Give Your Heart a Break · Skyscraper · In Real Life · My Love Is Like a Star · For the Love of a Daughter · Skyscraper (Wizz Dumb Remix) · Rascacielo · Aftershock · Yes I Am

Heart Attack · Made in the USA · Without the Love · Neon Lights · Two Pieces · Nightingale · In Case · Really Don't Care · Fire Starter · Something That We're Not · Never Been Hurt · Shouldn't Come Back · Warrior · Up · I Hate You, Don't Leave Me · Let It Go · Give Me Love (Live) · Nightingale (Live) · Neon Lights (Live) · Really Don't Care (Live)

Mulholland Drive · Ruthless · Before I Go Upstairs · Call Me Up · When The Dark Falls

Ryan River Sessions edition

Airplanes · Guilty As Charged · We Are Never Ever Getting Back Together · Superstition · Sweater Weather · Santa Baby

The One

Dear Grey Skies · Follow · I'll Be Fine · Seasons · Going Home · Before I Go Upstairs · Dollar Store Locket · It's Not Personal · Secondhand · Shall We Dance · Gone and Done · Time to Go · What We've Found · Shall We Dance · Gone and Done · Time to Go · What We've Found

Hit Me Up · Can & Cannot Do · Obvious · I Been Hopin' · New Religion · Got Me Like Oh! · Stupid For You · You'll Be Sorry · Hit Me Up (Mix Show Edit) · Can't Make Somebody Love You · Goodbye (It's Time) · You'll Be Sorry (Acoustic) · Chains (Acoustic) · Elastic Heart (Acoustic) · Rolling In The Deep

| | |
| --- | --- |
| Christmas Business edition | Christmas Everyday · The Christmas Song · Oh Holy Night |

Confident · Cool for the Summer · Old Ways · For You · Stone Cold · Kingdom Come · Waitin For You · Wildfire · Lionheart · Yes · Father · Stars · Mr. Hughes · Cool for the Summer (Jump Smokers Remix) · Cool for the Summer (Suraci Remix)

Addict · Infatuation · Bells · Crazy Little Thing · Not Enough · I Deny · X Rated · I Don't Think So · Something You Say · Buttercup · We're Not Ready · F**ked Up Me · I'm Falling · It's Alright
The bold songs are singles from the albums.
Discography
Ad blocker interference detected!
Wikia is a free-to-use site that makes money from advertising. We have a modified experience for viewers using ad blockers

Wikia is not accessible if you've made further modifications. Remove the custom ad blocker rule(s) and the page will load as expected.