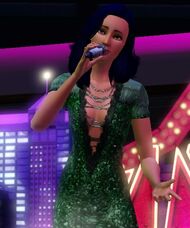 Brambi Bay
Edit
Brambi Bay is a Singer in Starlight Shores that has performed around town and was prononced 'Star' of the town and has performed at many private gigs such as Los Sueños Private Club and other town places e.g. Verde Park were Bay performs on the park stage every Tuesday,Flying V's Coffeehouse,Rodeo-Go-Go were Bay performs every Thursday,MN8,Mick's Master Karaoke and many more to come. Bay has also performed for the sick children in Holy Cow Memorial Hospital also does assemblys at Gooder Public School performing and teaching children about performing arts.
Brambi Bay: desceased
Brambis Songs;
One More Grey Day
Oogie Fever
New Glitz
Maybe it's Better this Way
It Hurts Both Ways
Don't Say Not Now
Hot and Foxy
Some of these songs Bay performs with a Guitar.
At the moment Brambi Bay lives on 76 Los Sueños Strip.
Personal Life;
Brambi Bay had a short relationship with Cody Shay, The relationship did not last long because he had a Cheater Reputation.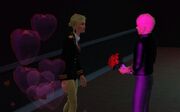 Bay and Shay met after Brambis first gig, and she was apparently
wooed
by his wonderful and charming personality. They had been dating for a few weeks and had there relationship nickname 'Crambi' mixing Cody and Brambi together. After many other of Brambis concerts afterwards she does a traditional other concert and he was caught kissing and wooing somebody else, Brambi was heart broken. But Bay did mention that she was scared her job would take over many of her relationships but she said her future comes first!
Traditional After-concerts;
After every concert Bay performs an after-concert were she plays backstage with her biggest fans and plays her new songs to make there experence more better. Sometimes Brambi only does it for a short amount of time ( she quotes) After a gig, I find another owner of a gig and get the next slot for tomorrow by midnight! Usally I do a gig everyday, everyone says it must be hard work but it isnt its so much fun, somedays il take the odd day off too have a rest and have some time to myself or maybe socialise for a while.
Celebrity Status;
At this current moment Brambi is a three star celebrity with over 58 paparazzi and fan shots over 10 celebrity friends, also publicity events, but has never had a massive story or wrong accuses. Bay quotes I keep my head down in the hollywood world, If you get what I mean, I wont ever cheat or do anything for a publicity stunt, things can turn ugly and can take over your career
Lifetime Wish;
Brambis lifetime wish is to get too Level 10 in her singing career to become a vocal legend. She is currently a level 8 (A Star)
Death: Died in a car accident in southern calafornia.