Fanon article ownership
This fanon page was created and is owned by
Majo.mraz.9
(
talk
). Unless the edit is constructive and/or minor (such as fixing a template), please do
not
edit this page unless given permission from the author.
Breese Family
Name
Breese Family
Number of generations
1 generation
Other Information
Game
The Sims 3
Neighborhood
Lucky Palms (previously),Bridgeport (now)
When I started game,in family were Kevin and his girlfriend Chloe. Kevin started work in Singer career as Sing-A-Gram Novice and Chloe started work in film career in new film studio in Lucky Palms (I added film studio from Bridgeport to Lucky Palms) as Background Extra. They had children ; Miami .Miami was born in Sacred Spleen Memorial Hospital in Lucky Palms while was her mother picking up flowers in park.
They moved to Bridgeport . But now, when Kevin met Rachel Shirt ,had secret relationship with her!!! She didn´t want that, but it happened . Now he is happy with his family, but he can just hope that his wife won´t found that old secret reletationship.
Family tree
Edit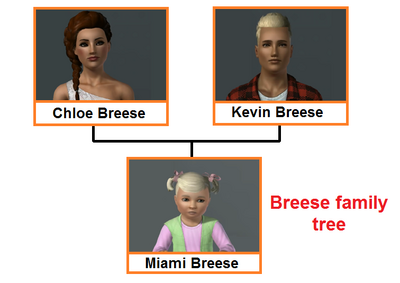 This fanon family is partially inspired by old Life-stream series of gameplayer Definitely Sims 3 Lover
This family are just NPC in my game with Shirt family
Ad blocker interference detected!
Wikia is a free-to-use site that makes money from advertising. We have a modified experience for viewers using ad blockers

Wikia is not accessible if you've made further modifications. Remove the custom ad blocker rule(s) and the page will load as expected.