Fanon article ownership
This fanon page was created and is owned by
Chunkyheels
(
talk
). Unless the edit is constructive and/or minor (such as fixing a template), please do
not
edit this page unless given permission from the author.
Carr Family
Number of generations
1 generation
Family connections
Space Family, Arch Family
The Carr Family is a very small family which consists of the divorced couple Joe and Bernadette Carr. They are very confusing though as they keep getting divorced and remarried. Joe finally ended this tradition when Lupin Space moved in with him and he realised he loved her so he ended it with Bernadette.
Family Tree
Edit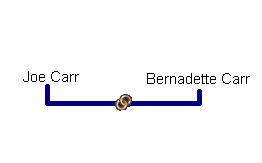 Bernadette's maiden name is Arch but she had no other family in that name which is why the Arch Family redirects here.
I will make a fanon page for Joe sometime soon.