Chadwick Fuchs

Biography
Chadwick sometimes feels jealous of his little sister. No reason why, he's just that kind of brother.
Name
Chadwick Fuchs
Gender
Male
Age
Adult
Life state
Ghost
Household
Pets
Ariel, Sonny
| | |
| --- | --- |
| Aspiration |  Knowledge |
| Secondary aspiration |  Max Out 7 Skills |
Appearance
Hair color
 Brown
Eye color
 Blue
Skin color
 Dark
Other Information
Game
The Sims 2
Playability
Deceased
Cause of death
Illness
Neighborhood
Desertia
Chadwick James Fuchs 
(born 
Payton Chadwick Mikkelsen
) is a sim who lived in Desertia. He is the biological son of Abigail Mikkelsen and Daniel Mikkelsen, the biological younger brother of Annie Mikkelsen, the adopted son of
Leila Fuchs
and
Linda Fuchs
, the adopted brother of
Angelo Fuchs
and Mia Collin, and the adopted uncle of
AJ Fuchs
,
Fanon:Angie Fuchs
, and
Fanon:Daisy Fuchs
.
Biography
Edit
Birth and Early Life
Edit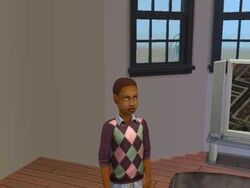 Payton Mikkelsen was born to a loving married couple, Abigail and Daniel Mikkelsen. He was their second child, as he had a teenage sister named Annie. He started going by his middle name Chadwick once he started school, as he didn't like having a unisex name. Disaster struck at home one night, when Abigail began to cook dinner for the family as a celebration for Annie graduating from high school, but left the food in the oven for two long as she helped Chadwick with his homework. Annie discovered the kitchen had burst into flames, and managed to evacuate her parents and brother, Abigail ran back in to save her daughter, as Daniel tried to stop her as he knew Annie was already dead. Chadwick stood outside the house scared for his parents, having already figured out that his sister was dead. Eventually the fire died down, and Chadwick thought that his parents had put it out, but he walked back in to find piles of ash all over the house, three of which belonged to his parents and sister. The
social worker
 came to Chadwick, who was sitting alone in the burned out house, and took him into care. 
Chadwick didn't spend very long in care, as the social worker informed him of a same-sex married couple wishing to adopt. He went to their house and met Leila and Linda, as well as Angelo, the child that Leila adopted as a single mother sometime before meeting Linda. Chadwick had his name officially changed to Chadwick James Fuchs, and he bonded with Angelo, over their common orphaned status (Angelo's father died before he was born and his mother killed herself). Shortly after his adoption, his parents enrolled him and Angelo in private school. Leila died from electrocution, and Linda moved on with a man named Bruce and they had a daughter named Mia. When Linda and Bruce died, Chadwick was left to care for the teenage Mia. Chadwick caught and illness that passed on to Mia. Mia died first, devastating Chadwick, who died later.