Charli Love (Charlie Love) is the Daughter of Emily and Justin Love and the sister of Esmerelda Gooder and half sister of Alfie Love. She was brought up in Starlight Shores with her brother and sister until her mother and father sadly passed away  when Charlie was in her early teens. Also Alfies father Finnegan Sawyer died when he was a teen. Emily Love was a famous Singer she was a Vocal Legend and was known all over SimNation. Charlie graduated at Gooder Public School and won two awards of being the highest graded student and most likely to fulfill their lifetime wish.  When Esmerelda got married to Sebastian Gooder and had their child Bailey Gooder, Charlie moved out with the family dog Mateo, which they had for twenty years. Charlie wanted to follow the footsteps of her mother and become a singer.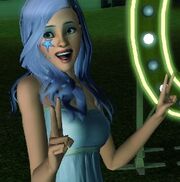 Birth name: Charlie Love.
Born: May,(23), Starlight Shores.
Genres: Pop Rock,Disco,Hard Rock,Pop Ballad, Country and Jazz.
Occupation: Headline Singer. 
Instruments: Vocals and Guitar . 
Charlie has now performed at many gigs at Flying V's Coffeehouse,Mick's Master Karaoke,Rodeo Go-Go, MN8 and Verde Park. Now rumours that have been confirmed true that Charlie is now going to be performing at Los Sueños Private Club.  In an interview Charlie said; 'Im so excited to be now performing at private venues, its an honour and I feel like I'm making my mother really proud, and my dad of course. Also Charlie had been a cameo in a play at the Urbane Centre of the Arts, and performing for sick children at the Holy Cow Memorial Hospital. Also reviewing the local restaurant Broad Business Tower & Grill with her brother Alfie Love who has an interest in cooking . 
Songs Charlie has released so far;
One More Grey Day
Oogie Fever
New Glitz
Maybe it's Better this Way
It Hurts Both Ways
Don't Say Not Now
Hot and Foxy
She is currently at Level 7 as a 'Headliner' 
Celebrity status;

Four Stars at Renowned VIP
Relationship Status:
Charli Love was talking about her new Boyfriend who is now her roomie is Harry Letler. Who is a chef by day a rockstar by night. Behind his tattoos he is a handsome guy, hopefully he will put a ring on it soon. 
Family life: 
Charlies brother Alfie's father was Finnegan Sawyer was Emilys second husband her first husband was Justin but remarried him after Finnegan. Finnegan never got on with Justin as he thought he was his replacement of his father that wanted nothing to do with his son. When the
family
 found out his father was living on the same street Alfie did everything to try and get the attention and to see his father, but Sawyer wanted none of it. When they finally started to talk on the
phone
 Finnegan died of a serious cancer. Which made Alfie even more 
rebellious
 getting
arrested
 for vandalism and assaulting children who bullied him at school for having a different father to his sisters. Alfie never had a good relationship with Justin and had a rocky relationship with his mother but near the end of her dead they became very close as Alfie said in an interview. '
Im not upset that I got close to my mum before she died, it was about 5 years before her death, it comforts me more than upsets me, I still regret everything I did when I wasent well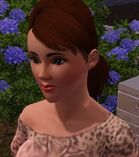 Emily Love: Emily Love is the mother of Charlie Love, Esmerelda Gooder and Alfie Love. Died of starvation from Stomach Cancer a year after the death of her husband Justin Love. Who are both buried in Lidview Cemetery buried with one of her toys she kept from when she was younger of a pink rabbit and her guitar she had since she was a teenager and used in her concerts and gigs and the day up to her death. Se is buried next to Justin Love and also Finnegan Sawyer is buried near with flowers the family used to collect wildflowers for competitions.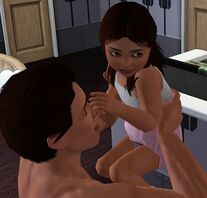 Justin Love: Is the father of Esmerelda Gooder and Charlie Love. First and third husband of Emily Love, they divorced first because they got married at a young age and both weren't ready for a marriage as they went their sepreate ways for a few years and reuinted at a party of a friends as Emily secondly married Finnegan Sawyer as they met at a SimFest. As they remarried at the park exclusively she had two more children with her husband. He worked in the 
Law Enforcements
 .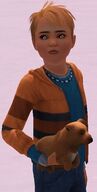 Alfie Love: The first child of Emily Love and Finnegan Sawyer, a child of a broken down marriage and moved into a safe and secure family, as Alfies health broke down from a father that wanted nothing to do with his adoring son which loved his father very much, and from the marriage break down of Emily and Finnegan he developet anger issues at a young age and had the 
hot-headed
 trait, for his birthday he got a dog called Mateo to help with his issues and to have a companion. After his father died, he became rebillious and got into trouble with the enforcements and running away on numerous occasions. After having a bad relationship with his step-father Justin he did use to slip in the word 'dad' a few times and they sorted everything out when he came out of his teenage mood-swing stage, and also rebuilt his relationship with his mother as they both died, he became more calmer and having to having routeens to keep his health at a steady stage. He is now currently living on his own, he is in the 
business career
 and goes to every single concert of Charlies. 
Esmerelda (Esme) Gooder: 
The second child of Emily Love and the first child of Justin Love. Esmerelda was a happy and strong child, when Justin and Emily died, she looked after both of the children and kept them strong, and still has a strong relationship with them both. Married at a young age to Sebastian Gooder, which is a very strong marriage as they have their first child Bailey who is now in high school, they said they do not want another child as a personal choice. Esme is now working in the Medical Career .
Inspirations: Emily,Justin and Alfie Love and her sister Esmerelda also singer  Brambi Bay .