Descendants of Petra

Name
Descendants of Petra
Number of generations
5 generations
Family connections
Pepper family, Landgraab family, Tricou family, Carter family, Thompson family, Appoell family, Bell family, Black family, Bay family, Bramblerose family, Sword family
Other Information
Game
The Sims 2
Neighborhood
Sunstonetown
"

Practically Sunstonetown is populated by only one family, the Fa family. Seriously, they are everywhere!
- the C.E.O. about the Fa family

"
Granddaughter of Lorraine and Beauregard Bramblerose, daughter of Antoinette and John Pepper, III. Wife of Corbin Fa.
Matriarch of the Fa family and "founder" of Sunstonetown.
After a tragic fire accident Petra had to leave her hometown, Willow Creek, when she was only 19. She settled down in a far away land, in a once blooming empire: Sunstonetown.
There she met her future husband, Corbin. They have been living in a cute little cottage-pagode on the outskirts from the very beginning. These two had 10 children, 27 grandchildren, 34 great-grandchildren and who knows how many distant relatives.
Descendants
Edit
Here are their kids cronologically:
Steve

Palma

Penny and Franny (deceased)

Francis

Flora and Patrick

Euphrosyne (deceased)

Delma and Dora (deceased)

Now let's see the 27 grandkids!
Steve's kids: Stephanie and Sarah
Palma's kids: Mark and Peter
Penny's kids: Messy, Rodney and Mike
Franny's kids: Adrien and Anna (both deceased)
Francis' kids: Brad and Britney
Flora's kids: Ramona (deceased), Regina, Marion and Malcolm
Patrick's kids: Patric and Leila
Euphrosyne: Otto and Otilia (both deceased)
Delma's kids: Hermina, Helga, Kenny, Kitty, Christopher
Dora's kids: Tommy, Johnny and Shine
Can you follow? No? Then here are the great-grandkids!
Stephanie's son: Frances Estefan
Mark's son: Maximus
Peter's daughter: Rainielle
Messy's daughter: Xandra
Regina's kids: Ralphy and Gaia
Patric's daughter: Aphrodite
Otto's and Otilia's son (what?!): Chaos
Hermina's kids: Nympha, Musa, Hera, Zeus and Calliope
Helga: Wyatt, Hector, Whitney, Hercules and Hermione
Kenny's kids: Daniel, Cedric, Chester, Nelly and Erwin
Kitty's kids: Calypso, Vanilla, Matt, Ky, Xera and Petra Delma
Christopher's kids: Marilyn, Carlos, Consuela, Christopher and Laura
Great-great-grands:
Fa Family
Edit
Fa-Indie HouseholdEdit
Petra's daughter, Penny met Mitch Indie at the university and they fell in love with each other immediately. After graduation they bought a small flat. Soon their daughter, Messy was born. Everything was perfect. Or at least seemed perfect…
One of their neighbours fancied Penny and because Mitch was working all the time, the housewife became lonely. She gave into temptation but then she realized what she's done, but she just couldn't tell her husband she cheated on him. Instead she told him she wants a house with a cute small garden, far away from the concrete jungle.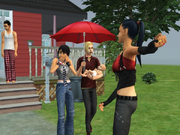 Mitch agreed.
A few months later they bought a house, however Penny found out she was pregnant with twins, yet she was 99% sure their father was Mitch, not the neighbour, Rodney. Years passed, the twins started to look like Mitch, so Penny heaved a sigh of relief. But then the 16 year old Messy announced her pregnany and when little Xandra was born, Penny lost it. She told her daughter to leave her house and to never come back.
Fa-Landgraab HouseholdEdit
Petra's daughter, Flora is the only child from the Fa family who never went to a university. She became Malcolm Landgraab's wife instead. Why the knowledge when you have money, right Flora dear?
Flora and Malcolm had four children: Ramona, Regina, Marion and Malcolm.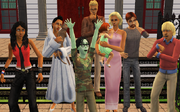 Ramona died on her wedding day – alongside with her unborn child. Regina got abducted by aliens several times, but after the last abduction she did not return alone… A few months passed and little Ralphy joined the family, but Regina denies his existence. When Ralphy turned 4, Regina got married to a bloke called Blake Rauscher and now they have a daughter, Gaia. Needless to say this child is her mother's little angel.
Just like Ramona and Regina, Marion and Malcolm are twins too. Meanwhile Marion inherited her mother's beauty, Malcolm got his father's face, so this fact pretty much sums up their lives.
Petra is the first sim I created in The Sims 2. At least she is the first one I remember.
In Chinese the name Fa means beginning. This is just a lucky coincidence, I swear.
Petra was still alive when her great-great-granddaughter (Hannah) was born. Theoretically she was 121 years old back then (and still an adult!).
Petra is Corvia Sword's cousin.