Fanon article ownership
This fanon page was created and is owned by
AStranger195
(
talk
). Unless the edit is constructive and/or minor (such as fixing a template), please do
not
edit this page unless given permission from the author.
The Doe family is a family that appeared in The Sims and The Sims 3. They live in Neighborhood 1 in The Sims and in Sunset Valley in The Sims 3.
Family Tree
Edit
This is the Doe family tree that was made in MS Paint.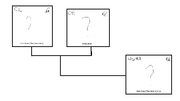 John Doe - a male Sim created in The Sims
Mary Doe - a female Sim created in The Sims and The Sims 3
Bob Doe - a male Sim adopted by Mary in The Sims 3
In real life, I made the Doe family in The Sims 3 first before on The Sims. This is the reason why the family tree makes no sense (Sunset Valley is 50 years before Neighborhood 1).
The family tree was created in MS Paint.
The reasons the family doesn't exist are: 1) the creator has no copy of The Sims 2 as of writing; and 2) Bob Doe died of old age in The Sims 3.
Ad blocker interference detected!
Wikia is a free-to-use site that makes money from advertising. We have a modified experience for viewers using ad blockers

Wikia is not accessible if you've made further modifications. Remove the custom ad blocker rule(s) and the page will load as expected.