Fanon article ownership
This fanon page was created and is owned by
NuttySimmer
(
talk
). Unless the edit is constructive and/or minor (such as fixing a template), please do
not
edit this page unless given permission from the author.
For the rest of his family - Fanon:The Stormensen/Legacy Family
Hiero Stormensen is the founder of my Legacy Challenge and the father of Generation 2.
Hiero Stormensen

Biography
Hi, I'm Hiero!
Name
Hiero Stormensen
Gender
Male
Age
Elder
Life state
Sim
Family
Parents
None
Sibling(s)
None
Romances
Carmen Stormensen
Child(ren)
Eric Stormensen, Rebbeca Stormensen, Stacey Stormensen, Randy Stormensen, Unborn baby Stormensen
Zodiac sign
 Aquarius
Aspiration
 Family
Lifetime want

| | |
| --- | --- |
| | Reach Golden Anniversary |
Chemistry
Turn ons
 Makeup
 Hard worker
Turn off
 Unemployed
Appearance
Hair color
 Red
Eye color
 Blue
Skin color
 Medium
Body shape
 Thin
Other Information
Game
The Sims 2
Playability
Playable
Neighborhood
Riverblossom Hills
He started out with a pathetic excuse for a home, and only had one room - The bathroom. He met Patrisha Wan when the welcome wagon came. He had pretty strong chemistry with her, and a few other townies, but I liked Pat better.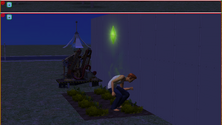 After he married Pat, earning money became a lot easier. I was fimally able to give them a house, and floors so weeds didn't grow in their own home. They now have a garden, and a few lifetime rewards outside.
After Eric & Mehrissa got back from college, they had 40,000 simoleons to spend, so I demolished their house & rebuilt it.