Fanon article ownership
This fanon page was created and is owned by
JennaLorena
(
talk
). Unless the edit is constructive and/or minor (such as fixing a template), please do
not
edit this page unless given permission from the author.
Ionello Family
Name
Ionello Family
Number of generations
5 generations
Family connections
Cane Family, Charpentier Family, Jones Family, Kinsey Family, LaGuardia Family, Martinez Family, Origaza Family, Pola Family, Quinette Family, Rosa Family, Vilena Family, Whelan Family

The Ionello family has only expanded since they first appeared as a three-Sim family in The Sims. Introduced as a mysterious rich family from "The City", stories of their intricate past and future and revealed and developed in The Sims 3 and The Sims 2, respectively.
The core of the Ionello family lies between Caridad and Jonathan, and their daughter Elise.
The Ionello Family
Edit
Sub-Families
Edit
The Cane Family
Edit
The Charpentier Family
Edit
The Jones Family
Edit
The Kinsey Family
Edit
The LaGuardia Family
Edit
The Martinez Family
Edit
The Origaza Family
Edit
The Pola Family
Edit
The Quinette Family
Edit
The Rosa Family
Edit
The Vilena Family
Edit
The Whelan Family
Edit
Onomatology
Edit
Family Tree
Edit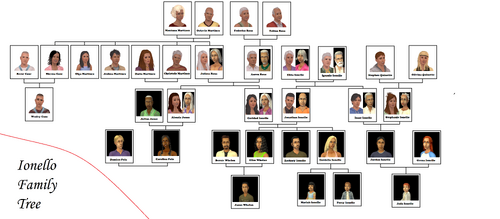 Caridad Ionello is the only member of the large Ionello family to be alive and playable in all three games.
Ad blocker interference detected!
Wikia is a free-to-use site that makes money from advertising. We have a modified experience for viewers using ad blockers

Wikia is not accessible if you've made further modifications. Remove the custom ad blocker rule(s) and the page will load as expected.