Fanon article ownership
This fanon page was created and is owned by
Mollymolata
(
talk
). Unless the edit is constructive and/or minor (such as fixing a template), please do
not
edit this page unless given permission from the author.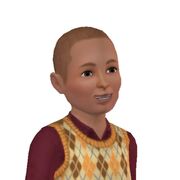 Jordan Keaton was born in the Sacred Spleen Memorial Hospital in Sunset Valley to the sporty Sims Justine and Marty Keaton. Since Toddler Jordan showed interests in sports and to mother nature.
Childhood
Edit
He enjoys playing soccer, football and baseball along with his friend Johnny Furtado and other boys from his school. He's one of the best athletes of his class and goes to an extracurricular activity of Sport. His parents were thinking of putting Jordan in the Dribbledine Sports Academy, so that he could work more on his athletic skills and maybe further he will be a top notch policeofficer like his mother or a fine soccerplayer like his dad.
Preteenhood
Edit
Jordan is now a Student in the Dribbledine Sports Academy and is enjoying the time there.
Teenhood
Edit
Under Construction