Lexington family

Description
'"The high and prestigious Lexington family."'
Name
Lexington family
Members
Miles Lexington, Shelby Lexington, Lucien Lexington, Alexandra Lexington, Fred Lexington, Elizabeth Lexington, Callum Lexington, Drew Lexington, Amie Lexington, Helena Jackers
Number of generations
4 generations
Family connections
Jackers family, Moth family
Lot
Lexington Manor
Funds
§50,000
The Lexington family is a family created by Beds. The family is a rich, upper class family residing in Sunset Valley. The family's patriarch is Miles Lexington, the second oldest child to George and Eileen Lexington. Miles is also the one who runs the family Business. Helena Jackers (previously Lexington) is the only family member who doesn't have an interest in the family business, there go not having any contact with her brothers, only being in contact with her nieces and nephews. Drew Lexington works in the political career and also juggles being the father to Amie Lexington.
First Generation
Second Generation
Third Generation
Fourth Generation
Family tree
Edit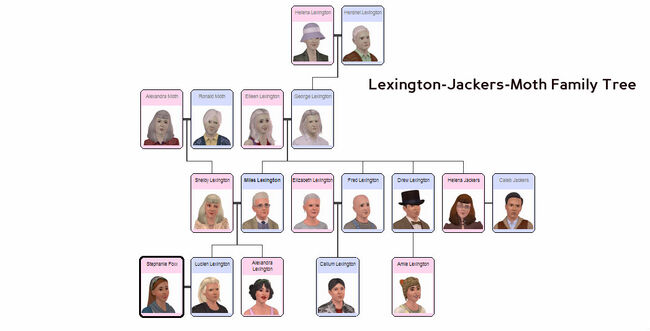 With Story Progression on, Alexandra and Callum enter a relationship, despite being cousins.