Fanon article ownership
This fanon page was created and is owned by
Vl4dimir-g0thik
(
talk
). Unless the edit is constructive and/or minor (such as fixing a template), please do
not
edit this page unless given permission from the author.
Madison Burb

Biography
Madison is quite the opposite of her older sister. She focuses more on school work than on boys.
Name
Madison Burb
Gender
Female
Age
Teen
Life state
Sim
Education and Employment
School
Private School
Grade
A+
| | |
| --- | --- |
| Zodiac sign |  Taurus |
| Aspiration |  Knowledge |
Appearance
Hair color
 Black
Eye color
 Brown
Skin color
 Medium
Body shape
 Fit
Madison Burb is a Sim who lives in Vl4dimir-g0thik Pleasantview. She lives with her father, her mother, her older sister and her younger brother.
Madison was born short time after the Burbs moved in Pleasantview. Her mother just found a job in the Business career and her father wanted a second child. She was born the day before Lucy aged up to a teen.
Toddlerhood
Edit
When Madison was a toddler, her mother was getting lots of promotion at work. Therefore, only her father had time to teach her her toddler skills. With the birth of Raphael, John had to spend the same amount of time with both his children.
Childhood
Edit
After she aged up to a child, Madison was taught how to study by her mother, who wanted her to enter the private school as her sister did. Jennifer quickly discovered her daughter was really bright. Her thoughts were eventually confirmed when Madison got an A+ report card. Raphael then grew up into a child, and John invited the private school headmaster, so that the two children would enter it. They were accepted, and Madison met Taylor Goth.
When growing up into a teen, Madison rolled the Knowledge aspiration. She began to feel interested in science and paranormal. By this time, she also met Alexander Goth. She was fascinated by this boy who was obsessed by his mother's abduction. She offered to ask him in his research about aliens. Later on, she met Beau Broke, and witnessed his first kiss with her sister.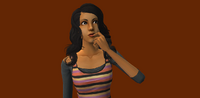 | Image | Interest | Level |
| --- | --- | --- |
| | Environment | |
| | Food | |
| | Weather | |
| | Culture | |
| | Money | |
| | Politics | |
| | Paranormal | |
| | Health | |
| | Fashion | |
| | Travel | |
| | Crime | |
| | Sports | |
| | Entertainment | |
| | Animals | |
| | Work | |
| | School | |
| | Toys | |
| | Sci-Fi | |