I'm sure that all of you know Molly French and her Lifetime Wish. Here is another story about her.
One day, Molly met another man (Mike French) at Central Park. He was playing the guitar. She fell in love with him and started a romantic relationship. After some months, they got married. They moved in to a big house next to the Central Park and started their life together. Because of Mike's job, they had enough money to live a happy life.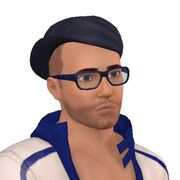 Then Molly delivered twins. Two girls called Miranda and Mandy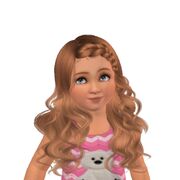 French.
Mike French
Edit
Mike has the traits: Artistic, Hopeless Romantic, Lucky, Flirty and Heavy Sleeper.
His Lifetime Wish is to reach level 10 in the Music Career track (Symphonic Branch).
He is level 6 in the Music Career. His guitar skill is level 8. He loves painting too.
He has blue eyes and brown hair and wears a hat. He is very happy because he has two girls.
His favourite colour is green. He likes hotdogs and his favourite music is custom music.
Miranda French
Edit
Miranda has the traits: Genius and Loser.
Because of her genius trait, she can read books and reads books a lot.
Her favourite colour is lilac. She loves cookies and pop music.
She is one of the most beautiful girls in Sunset Valley.
Miranda and Mandy have been best friends since childhood.
Mandy French
Edit
Mandy has the traits: Genius & Charismatic.
She can walk but she can't talk.
She likes to play in boxes.
Her favourite colour is pink.
She loves fish & chips and her favourite music is electronic..
Mike was the tenth husband of Molly. After she married Mike, she achieved her Lifetime Wish. Sandi (Her daughter) grew up and married. sometimes Molly visited her or sometimes invited her over. After that she left her work (She was a chef) and lived with Mike until she died.