Fanon article ownership
This fanon page was created and is owned by
Majo.mraz.9
(
talk
). Unless the edit is constructive and/or minor (such as fixing a template), please do
not
edit this page unless given permission from the author.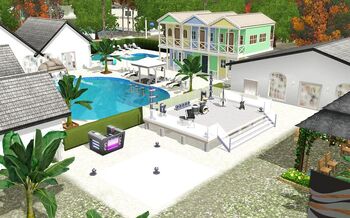 Rachel´s paradise is (fanon) resort in Bridgeport.
It´s 5-star paradise and owner is Rachel Shirt ,so resort is named after her.
Description
Edit
Our Hotel has got everythink what you need on your holiday, we have dining area, Bedrooms and Luxury special Bedrooms, gym ,bar and two pools .Every sim will have awesome holidays in Rachel´s Paradise .
This resort is inspired by Rachel´s paradise from gameplay series of Definitely Sims 3 lover