Redfield family

Description

Leona and Jean are going to the college. Meanwhile, Chris and Charlie are grown into teens! When a famous rock star offer him an opportunity to joined a band competition, Chris believes this is the right time to accomplish his long time dream to become a rock star.

Seven years had passed, the Redfields enjoyed their peaceful life in Sunset Valley. Can the twins Leona and Jean enjoy their teenager's years? Plus, something happened to Chris when he started talking to himself...

John Redfield is a son of a successful businessman from Twinbrook. After a conflict with his father, John decide to moved to Sunset Valley with his wife and children. Can he enjoy his new life?

Name
Redfield family
Members
John Redfield
Lily Redfield
Leona Redfield
Jean Redfield
Chris Redfield
Charlie Redfield
Number of generations
2 generations
Family connections
TBA
Lot
Myrtle Bungalow
Other Information
Game
The Sims 3
Neighborhood
Sunset Valley
The Redfield Family is a Sim family created by Rizkirafu.
First & Second Generations
Edit
The first & second generations of Redfield family I created in base game consist John, Lily, Leona, Jean, and Chris. They lived in the "Myrtle Bungalow" house. (Notes: I rebuilt the house so it can fit for four family members). John worked in politic career while Lily tried her luck in culinary. Jean and Leona befriend some local children in the town like Bella Bachelor and Kaylynn Langerak.
In Book 2, the family got one new member, Charlie Redfield, an Imaginary Friend who transformed into a human child.
Role in A Sim's Tale seriesEdit
The Redfield family serves as the central character of A Sim's Tale series. The first Sim's Tale focuses more on John Redfield, who moved to Sunset Valley with his family in order to achieved his dream to became a politician without his father's intervention.
In Book 2, the protagonist role passed to John's children, Leona, Jean, and Chris with their respective problems: Leona's rivalry with Dina Caliente, Jean's relationship with Alex Curtiz, and Chris' bizarre friendship with an imaginary friend who later became a human and adopted into the family.
Chris remains the protagonist in Book 3 while Jean and Leona left for college.
The spin-off story, The Equestian isn't technically focused on the Redfield family, however, the protagonist, Eliza Manhattan is also a descendant of the Redfields through her mother, Jessica.
Known member
Edit
Generations
Edit
Family Tree
Edit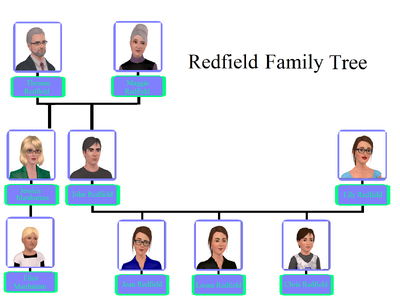 Ad blocker interference detected!
Wikia is a free-to-use site that makes money from advertising. We have a modified experience for viewers using ad blockers

Wikia is not accessible if you've made further modifications. Remove the custom ad blocker rule(s) and the page will load as expected.