Fanon article ownership
This fanon page was created and is owned by
DarkSuicune2000
(
talk
). Unless the edit is constructive and/or minor (such as fixing a template), please do
not
edit this page unless given permission from the author.
Rhi-Rhi and Kiki household

Description
Rhiannon has always been a successful celebrity who likes her attention. When her sister needed a place to stay, of course she let her twin come live with her, but what she doesn't know is that Kiki left her husband and two children in Sunset Valley. Will her secret stay safe, or will Rhiannon kick her out after finding out the truth?
Name
Rhi-Rhi and Kiki household
Members
Kiki Alvi
Rhiannon McNay-Kid
Number of generations
3 generations
Family connections
Alvi family
Lot
27 Lost Willow Road
Funds
§52,526
Difficulty level
Other Information
Game
The Sims 3 Store
Playability
Playable
Neighborhood
Riverview
The Rhi-Rhi and Kiki household consists of two female twin sisters, Rhiannon and Kiki. Rhiannon lives in a two-bedroom house with her sister Kiki, who needed a place to stay. But Rhiannon appears unaware that Kiki has an ex-husband and two sons that she left behind in Sunset Valley. It's possible that if Rhiannon finds out, she's going to kick Kiki out of her home and she'll have to find a new home.
In the Riverview graveyard, their parents Travis and Shaniqua are resting there. They both died as young adults.
Onomatology
Edit
McNay: Derived from McCray.
Kid: A child or young person. Kid is also the term for a baby goat.
Travis: Travis is an English masculine given name of French origin. It is derived from the word "traverse" or "to cross", and was given to toll collectors who stood by a bridge or crossing.

Shaniqua: The name Shaniqua comes from African-American origin.

Rhiannon: Probably derived from the old Celtic name Rigantona meaning "great queen".

Kiki: Diminutive of names beginning with or containing the sound K.
Family tree
Edit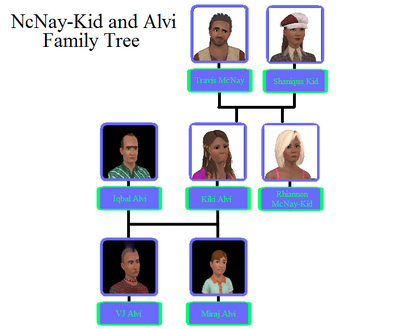 Rhiannon wants to keep their two bedroom home because it's easily affordable, but Kiki wants to move out to a mansion. They do not have two much money for that.
Nay and Kid put together sound like "Naked". This was not intentional because I made Travis's last name and Shaniqua's maiden name first in my rough draft.