Fanon article ownership
This fanon page was created and is owned by
Facebookerror
(
talk
). Unless the edit is constructive and/or minor (such as fixing a template), please do
not
edit this page unless given permission from the author.
Description
'Giovanni, the Mayor of Bridgeport, appears to be squeaky clean. If only people knew what he did in his spare time. Betty, on the other hand, is following in her brother-in-law's footsteps by taking the reigns as the Don of the Bridgeport Mafia.'
Members
Giovanni Romanelli, Betty Romanelli
Lot
99 Embaracadero Drive
Funds
§19,332
Difficulty level
The Romanelli family is an extremly wealthy family known for being one of the most famous and dangerous families in all of Bridgeport. They reside in the State of Simazonya in the town of Bridgeport.
The Romanelli family originates in Sicily, having immigrated to Bridgeport when Luigi and Giovanni were young children. Through corruption and crime the family has risen to become one of the most wealthiest families in Bridgeport, becoming leaders in local government as well the Bridgeport Mafia. Luigi served as the Don of the Mafia for a substantial amount of time until his death of natural causes. His wife, Juliana fulfilled most of his duties until the only person more dangerous than Luigi was chosen as his successor: Giovanni's wife, Betty.
Romanelli's are very well known in Bridgeport, but no so much in other areas of the state. Most members of the family are generally over-dramatic, obsessed with themselves, or just hate everyone and everything.
Few members of the family lack a negative trait. Listed below are traits that make the family... not good and those that possess them.
Betty is evil.
Luigi and Betty are kleptomaniacs.
Giovanni and Betty dislike children.
Luigi, Giovanni, and Betty are snobs.
Luigi is mean-spirited.
Juliana is hot-headed.
Iva is grumpy
Fresno is aggressive.
The Sims 3
Edit
Luigi has passed away, his gravestone underneath a tree where he used to golf on the estate. His wife, Juliana, and his youngest daughter, Neva, reside in the family mansion along with Neva's husband Jeremy and Juliana's dog Fresno (Andrew lives with the family, however he is attending Smugglesworth Prep School.) Juliana had been fulfilling most of her husband's duties until her enemy, and sister-in-law, Betty was chosen to succeed him. The two have formed a business partnership and still despise one another. Neva works in the Film industry as a television actress, Jeremy works in Business, and Juliana works as a Chef de Cuisine at the local five-star restaurant. Neva's decision to send Andrew to boarding school was simply because she thinks that she doesn't "have the time" to take care of a child, a decision which upset Juliana.
Luigi and Juliana's oldest daughter, Iva, resides in Riverview with her husband and children. She is unemployed.
Living in a Downtown Bridgeport condo is Bridgeport's mayor and the new Mafia Don, whom are Luigi's younger brother and even younger sister-in-law, respectively. Giovanni leads the city through silent corruption, going as far as to wire city money to the Mafia, and blatantly ignores what many view as a "threat" in the Mafia. He met his wife, who is considerably younger and eviler than him, on a vacation to Moonlight Bay, where the then-teenaged Betty Carthage resided with her family--business-people who run the Carthage Financial Group-- in their federal-style mansion. They both dislike children, therefore it is highly unlikely the pair will be having any children.
Onamotology
Edit
Romanelli- plural form of Romanello, which is a pet form of the personal name Romano, which is Latin for a "citizen of Rome."
Luigi- Italian form of Louis, which is Old German/French for "famous warrior."
Giovanni- Italian for "God is Gracious", variant of John.
Juliana- Latin for "youthful", feminine variant of Julian.
Elizabeth (aka Betty)- Greek for "oath of God."
Iva- Old English for "God is gracious."
Neva- Russian for "name of a Russian river."
Fresno- Spanish for the English words "ash" or "ash tree."
Romanelli Estate
Edit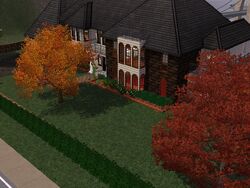 The Romanelli Estate, located near Bogaard Overlook in Bridgeport's wealthy commmunity, is an old Sicilian mansion gifted to Luigi early on in his criminal career after he killed a very influential "marked man." Here, Iva and Neva were raised, as well as Neva's son Andrew (well, here AND boarding school.) The home includes a master bedroom with an en suite bathroom and balcony, as well as two additional bedrooms, an additional full bathroom, and a powder room downstairs. The modernized kitchen includes a breakfast nook, and leads out to the back patio where the patio table, grill, pool, and hot tub are. The ground floor also includes a two-car garage, a dining room, a sitting room where the piano is, and a small corridor leading in to a private office once used by Luigi.
Also included on the second floor is another private office used by Jeremy, and a center room including a bar. The property is well-landscaped and surrounded by a fence and secured with a security gate.
The name "Romanelli" comes from someone I once attended school with.
Which sibling is your favorite?
Which Romanelli wife do you like better?