Fanon article ownership
This fanon page was created and is owned by
November Klause
(
talk
). Unless the edit is constructive and/or minor (such as fixing a template), please do
not
edit this page unless given permission from the author.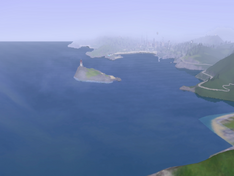 Schandlier State is a huge neighborhood in the Sims 3. The state has 2 towns, 1 suburb and 1
huge metropolis
. The world has straight roads with no big curves in them so Sims can transport in the state quickly. In towns, there are curvy streets and a 64x64 lot that has 4 rabbit holes that takes a role as a town centre or a downtown.
Transportation
Edit
Geography
Edit
The state has geography that ranges from a vast ocean to a hilly meadow to a mountainous region.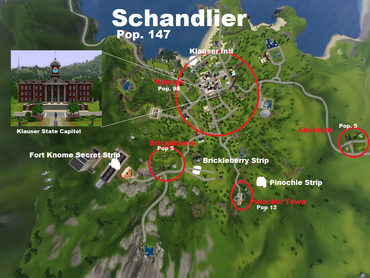 Click Me for Information of Schandlier State famous city, Klauser
Pinochle Town
Edit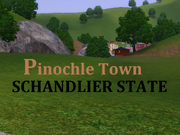 Pinochle Town is a small town that is at the spot of Pinochle Pond. The town has a bookstore, diner, police department and a supermarket. There are 2 houses and 3 residents. The town can be classified as a village for it being so small.
Brickleberry
Edit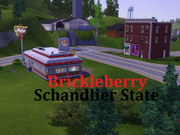 This town is at the intersection of Waterfall Way and the road that leads to Fort Knome. The town has 2 residents and 2 houses. The town also has a diner and a bookstore. There is a great view of Klauser from the town.
Grove Street
Edit
Grove Street is a ghetto neighborhood in Klauser. It is in a cul-de-sac and has 7 people, all having dark skin. The 7 people are allied and all 5 house's household's names are "Grove Street Families". The street is based off Grove Street in Grand Theft Auto: San Andreas.
A lot of Sims live in the state, about 140 sims live in the world. I cannot list the families on this page because there is about 90 households.
Active mods
Edit