Schwitz
Name
Schwitz
Number of generations
4 (2 current) generations
Family connections
Langerak family
Description
An ascendency of Athletes, the Schwitz are in town, and they aren't settling quietly - with Deana's big mouth and Ti-Ning's bipolar personality, they are sure to ruffle some feathers.
Members
Deana Schwitz
Ti-Ning Yeager
Chayse Schwitz
Jai Schwitz
Walker Schwitz
Lot
477 Sunnyside Blvd
Difficulty level
The Schwitz family (pronounced: Sh-wits) is a wealthy ascendency whom currently reside in Sunset Valley, all of which are a derivation of Deana Schwitz. The family are iconic to the Athletic trait, and currently consists of Deana, her other half Ti-Ning Yeager, and their three children, Chayse, Jai and Walker Schwitz.
Prior to now, Deana lived with her mother and now-deceased grandmother, Renee Schwitz (previously Thompson) and Anica Schwitz. She moved to Sunset Valley once she became a Young Adult, hoping to start a family of her own in her family's name, as part of a promise she made to her grandmother. It is unknown whether Deana or her predecessors had any siblings.
The Schwitz household was previously situated at 9 Sun Song Ave, and currently settles at 477 Sunnyside Blvd.
Deana's previous relationships in Sunset Valley included Parker Langerak and Stiles McGraw. Deana and Parker, although originally Romantic Interests, currently remain friends, and both the Langerak and Schwitz households still stay in contact with each other.
Deana and Ti-Ning began trying for a baby shortly after moving in together. As Young Adults, fertility proved difficult. Once becoming Adults, it was announced that Deana was expecting her first child.
The house is a basic three-story building, and currently holds sixteen "rooms", including four bathrooms, two living areas and two balconies. Indents implicate leads to – you cannot get to the room without going through its predecessor.
Ground floor

Open-plan Living Room and Dining Room

Fully-equipped Kitchen (with a door that leads to the Garden)
Bathroom with Bath, but no Shower

First floor

Landing Area

Parents' Bedroom

On-suite Bathroom with Shower, but no Bath

First floor Balcony (with stairs that go down to the Garden)
Baby's Bedroom
Bathroom with merged Shower-bath.

Second floor

Landing Area

Playroom
Children's bedroom
Living area

Second floor Balcony
Study Room

Mini-bathroom with Bath and Urinal
Family tree
Edit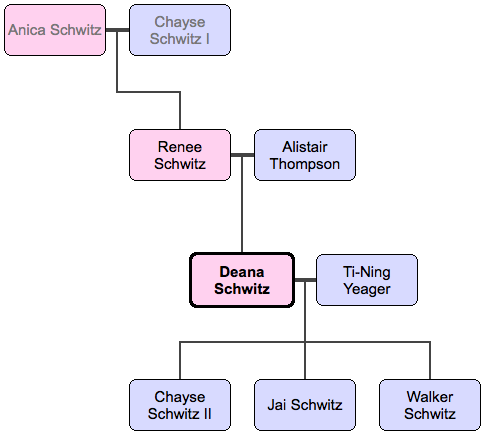 All descendants beginning with Deana and Ti-Ning carry the Athletic trait – it is unknown whether any other family members prior to Deana carried this trait.
Chayse Schwitz II is the first male descendant since his great-grandfather of the same name. However, it is unknown whether those of a higher descent had any siblings.
Deana was supposedly born Deana Thompson – however it is unknown if she took her fathers name at birth or not.
It is not known what happened to Deana's mother, Renee, after Deana moved to Sunset Valley.
Although the family was known for it's popularity with female births, all three of Deana's children where male: Chayse, Jai and Walker.