Fanon article ownership
This fanon page was created and is owned by
WikiBuilder1147
(
talk
). Unless the edit is constructive and/or minor (such as fixing a template), please do
not
edit this page unless given permission from the author.
Snow family
Name
Snow family
Number of generations
2 generations
Description
The Snows are ironically one of the warmest households in Howlgard. They've taken in a total of four children and now live happily in a house on the coastline of the town's largest island.
Members
Rainer Snow, Emily Snow, Yuki Snow, Winter Snow, Eira Snow, Herman Snow
Lot
1 Palm Street
Funds
§8,500
Difficulty level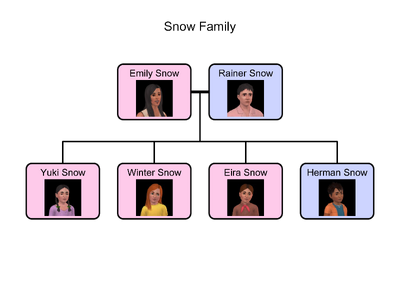 The Snow family is a family living in Howlgard. It consists of 6 members, 4 adopted children parented by Rainer and Emily Snow. Out of the 6 in the family, only 1, Herman, is a werewolf.