Fanon article ownership
This fanon page was created and is owned by
Chunkyheels
(
talk
). Unless the edit is constructive and/or minor (such as fixing a template), please do
not
edit this page unless given permission from the author.
This fanon was a
Featured Fanon
in
August 2013
. Its layout and content is an example of excellence in the Fanon Namespace.
The Space family are a wealthy family who gained their fortune from scratch.They main family lived in Lavisha but they have spread around Lavisha to all the Universities and Suburbs. Most of the family are aliens however some have managed to escape the unique skin tone which distinguishes them from the rest of Lavisha. Due to the fact that the family is rich and wealthy not many people make fun of the skin tone.
First Generation
Edit
Second Generation
Edit
Third Generation
Edit
Fourth Generation
Edit
Fifth Generation
Edit
Sixth Generation
Edit
In Laws/Lover
Edit
The Missing Branch
Edit
The Missing Branch were a branch of the family who were desdendants of Mickey after he had a relationship with Minerva and got her pregnant on two separate occasions. This branch grew up In Strangetown where life was much harder and dictated by the military family, the Grunt Family who insisted on proving your worth and death to the weak. They lived there for several years before the last of the Strangetown Space family moved to Lavisha in the hope of a better life.
First generation
Edit
Second Generation
Edit
Third Generation
Edit
House owned by them
Edit
Amin and Atta's parents were added after I'd created them via SimPE.
Kylie, Lupin and Flynn were the only properly planned births.
So far Jeanie is the only blood relative who is not an Alien (Imogen and Alistair don't count as they are not technically Blood Relatives)
Altogether, the family owns about roughly §500,000,000 altogether.
Some of the ages don't quite match up but that is because I play less on some branches of the family than the other.
The reason Stella, Kyle, Sebastian and Adelina don't appear on Atta's page is because she doesn't know that they are related and they are from PTU's past occupation.
I will make most of the In Laws of the family (eventually) unless they don't have a completely different story from the current person they are or were married to but not all of the lovers unless they play a big part in the person's life.
If I have written a name of a lover with a hyperlink, usually I will make them but if I have just written their name normally means I won't. (Usually)
Thanks to Cold Abyss for making the missing branch of the family :)
Random trivia, but I have always imagined the majority of the Space family being tall, in some cases VERY tall due to their alien heritage
Family tree
Edit
The Current family
Edit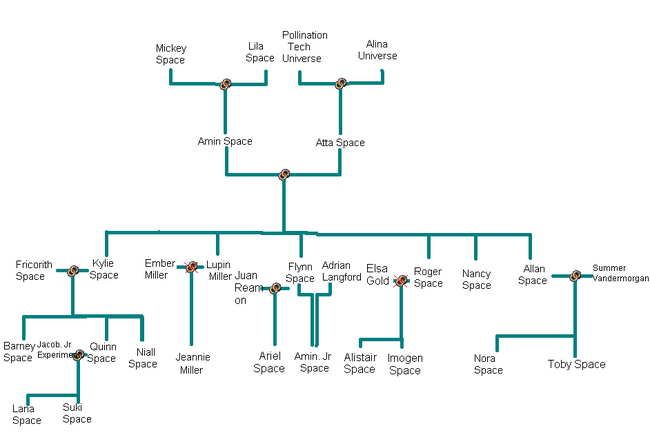 The Missing branch
Edit