Fanon article ownership
This fanon page was created and is owned by
Chunkyheels
(
talk
). Unless the edit is constructive and/or minor (such as fixing a template), please do
not
edit this page unless given permission from the author.
This fanon was a
Featured Fanon
in
August 2013
. Its layout and content is an example of excellence in the Fanon Namespace.
Space family
Number of generations
5 generations
Family connections
Tricou Family, Experiment Family, Miller Family, Hargreave Family, Langford Family, Storm Family, Universe Family, Gold Family, Hero Family, Carr Family, Vandermorgan Family, Takitani Family, Kruvier Family, Worthington family, Fuchs Family, Stepney Family, O'Ryan Family, Griffin Family, Terrano Family
Description
If you ask anybody from Lavisha who founded the town, they'd say the Redwood Family. If you asked who built it up they'd say The Tse Family. But if you asked who owns the town now there's only be one answer. The Space Family.
Funds
§5,000,000,000
Description
Flynn is hating her life right now. Even though she has Juan, Amin. Jr has moved and Ariel is dead, this is not the life she imagined.
Members
Flynn Space, Juan Space
Description
Roger and Audrey are two of the happiest people around so with Alistair and Imogen all grown up they were looking forward to relaxation however after Kayla died, they found themselves with an extra mouth to feed.
Members
Roger Space, Audrey Space
Description
Nancy met Bruce after a 'tragic accident' involving her mind. She is now happy with her home although Bruce seems tense whenever she talks about a certain coworker of hers...
Members
Nancy Kruvier, Bruce Kruvier, Avery Kruvier
Description
Allen had a great family and in his eyes he still does although many would doubt it. I mean, come on, he lost his wife, his son is...evil and his daughter plays along to all he says. How is that perfect?
Members
Allen Space, Nora Space
Description
Jeanie was a young detective, a past she and Andy choose to forget especially as she just used him. She is now engaged and a Mum but are things really over for her and Andy?
Members
Jeanie Miller, Zion Ternyck, Thomas Ternyck, Andy Terrano
Description
The infamous womaniser has landed in a new town. Will he seduce more beautiful woman or will he meet the One...
Members
Amin. Jr Space
Description
Toby is evil. There is no denying it, even he doesn't. In fact he came up with it.
Members
Toby Space
The Space family are a wealthy family who gained their fortune from scratch.They main family lived in Lavisha but they have spread around Lavisha to all the Universities and Suburbs. Most of the family are aliens however some have managed to escape the unique skin tone which distinguishes them from the rest of Lavisha. Due to the fact that the family is rich and wealthy not many people make fun of the skin tone.
First Generation
Edit
Second Generation
Edit
Third Generation
Edit
Fourth Generation
Edit
Fifth Generation
Edit
Sixth Generation
Edit
In Laws/Lover
Edit
The Missing Branch
Edit
The Missing Branch were a branch of the family who were desdendants of Mickey after he had a relationship with Minerva and got her pregnant on two separate occasions. This branch grew up In Strangetown where life was much harder and dictated by the military family, the Grunt Family who insisted on proving your worth and death to the weak. They lived there for several years before the last of the Strangetown Space family moved to Lavisha in the hope of a better life.
First generation
Edit
Second Generation
Edit
Third Generation
Edit
House owned by them
Edit
Amin and Atta's parents were added after I'd created them via SimPE.
Kylie, Lupin and Flynn were the only properly planned births.
So far Jeanie is the only blood relative who is not an Alien (Imogen and Alistair don't count as they are not technically Blood Relatives)
Altogether, the family owns about roughly §500,000,000 altogether.
Some of the ages don't quite match up but that is because I play less on some branches of the family than the other.
The reason Stella, Kyle, Sebastian and Adelina don't appear on Atta's page is because she doesn't know that they are related and they are from PTU's past occupation.
I will make most of the In Laws of the family (eventually) unless they don't have a completely different story from the current person they are or were married to but not all of the lovers unless they play a big part in the person's life.
If I have written a name of a lover with a hyperlink, usually I will make them but if I have just written their name normally means I won't. (Usually)
Thanks to Cold Abyss for making the missing branch of the family :)
Random trivia, but I have always imagined the majority of the Space family being tall, in some cases VERY tall due to their alien heritage
Family tree
Edit
The Current family
Edit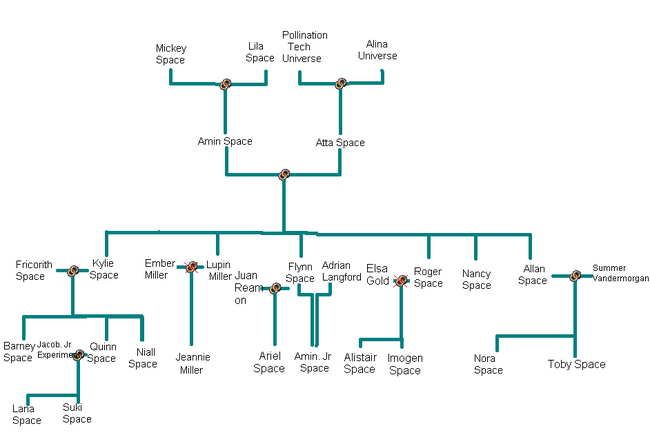 The Missing branch
Edit