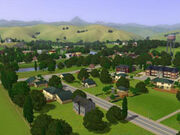 The Diary of Breydon Ramidia, now named From The Diaries of the Ramidia's and Beyond is an ongoing general fiction/drama on Carl's Sims 3 Forum.
The story takes place in Riverview with several modified buildings. It follows the lives of the Ramidia family, originally starting with Breydon and his sister Beatrice, but continues on to follow their children.
The Characters
Edit
The Ramidia's
Edit
Generation One
Edit
Anna Ramidia: The deceased mother and self-proclaimed founder of the Ramidia family. She originally came to Riverview to start a Legacy, and waited until she an Adult to have children. She married Sherman Bagley before the story started and died in the first update in her point of view. She was a gardener and worked in the Military before having Breydon.
Sherman Ramidia (né Bagley): The deceased father of the Ramidia's. Sherman grew up with his family and is an official Sim. He died of unknown causes as an Adult, back when Breydon was a child and Beatrice was a toddler. He was employed in the Forensics Branch of the Law Enforcement career. He died before the story began.
Generation Two
Edit
Breydon Ramidia: Breydon is the first main character of the story. He starts the story out as a child, though by the time the second update involving him rolls around he's a teenager. He used to have some sort of master plan, but eventually abandons it and it isn't mentioned again after his first entry after he ages into a Young Adult. Breydon has been outted by the author as gay, and used to harbor a crush on his friend Lionel Uribe. He recently reached the top of the Law Enforcement career and moved out with husband Lindsey and adopted daughter Cassandra.
Lindsey Ramidia (Née Greenwood) : Breydon's best friend and confidant. Lindsey is a good man with no outside family apparently, he is an Adult and is thought to be divorced. Lindsey meets Breydon in one update at Duncan's Diver. He is now the husband of Breydon and the father to the adopted Cassandra Ramidia.
Beatrice Ramidia: Beatrice is the second main character of the story. She starts out the story as a child. Beatrice is known for her somewhat childish outlook, as demonstrated in her posts, and her nicknaming of her brother, who she commonly refers to as Brey-Brey or just Brey. She has a love of music and does not have a career. In one update she in shown to have fallen in love with Breydon's friend Lionel, who quickly moved in with them. She has had five children; Camille, twins Christopher and the deceased Colby, and recently twins Cailey and Cecilia. She is now single, having divorced and kicked out Lionel for striking the teenaged Camille.
Generation Three
Edit
Camille Ramidia: Eldest child and current storyteller of the Ramidia Story. Currently a teenager and the girlfriend of live-in alien Voloski, whom she calls Blue. She is completely aware of the audience that watches her and often addresses them. Her title is notably different from the others, "From The Midnight Ramblings of Camille Ramidia"
Christopher (née Uribe) Ramidia: Currently a teenager and the twin of the deceased Colby Uribe. He is the second oldest of the family and likes color yellow. He saw his brother drown as a small child and never really got over it. He does love his mother though and always aims to please.
Colby Uribe: The deceased twin brother of Christopher Ramidia. He drowned at the pool as a child.
Cecilia Ramidia: One of the sister's of the second set of twins born by Beatrice Ramidia. She is currently a toddler. She was pregnancy discovered after the divorce.
Cailey Ramidia: One of the sister's of the second set of twins born by Beatrice Ramidia. She is currently a toddler. She was a pregnancy discovered after the divorce.
Cassandra Ramidia: The adopted daughter of Breydon and Lindsey Ramidia.
Family Friends
Edit
Lionel Uribe: Long time friend of Breydon and ex-husband of Beatrice Ramidia. He works in the Athletics Career and proposed to Beatrice in the bathroom of their home. He has nicknamed Beatrice 'Bea', and notably, is aware of Breydon's past feelings for him. His parents are Official Sim Hunter Cottoneye and mother Jenifer Uribe. He was given a journal by Beatrice, which was an effort to allow him to communicate with the audience. He has recently moved out after being divorced for striking his daughter.
Voloski Quitenros: The alien that lives with the Ramidia family, having shown up on their doorstep as a child. He seems to have a British accent for unknown reasons. He is the boyfriend of Camille Ramidia
Locations
Edit
The Ramidia House
Edit
The current main setting and recently renovated house of the Ramidia family. This house has been around for three generations and has been extended since then. There are five bedrooms, three bathrooms, large backyard, separate laundry, study and great room on main floor.
Breydon's House
Edit
The home of Breydon, Lindsey and daughter Cassandra. An official house and quite large. Only the porch has been seen so far.
Duncan's Diver
Edit
Duncan's Diver, previously known as The Watering Hole Juice Bar, is a small pub/dive bar that Breydon frequents. It is a dingy establishment known for cheap drinks and mixologists with bad fashion sense. Breydon comes here when he is feeling sad or wants to talk to someone in private. Currently the Dive has been frequented twice in the story.
The Library
Edit
The library, where many of the Ramidia's spend their time reading.
Shang Simla
Edit
Official Sims 3 Location, Shang Simla is where Breydon goes on his first vacation.
The Official Story on Carl's Sims 3 Forum: http://www.carls-sims-3-forum.com/index.php/topic,3678.0.html