Fanon article ownership
This fanon page was created and is owned by
DutchlishSim
(
talk
). Unless the edit is constructive and/or minor (such as fixing a template), please do
not
edit this page unless given permission from the author.
Chapter 3: Letters
Name:
Chapter 3: Letters
Series:
The Fischers
Written by:
DutchlishSim
Release date:
June 28th 2014

---

Chronology
Previous chapter:
Chapter 2: Desires

---
Almost 15 years have passed after the problems between Carmen and Matthew. Simon and Katherine are both in their adulthood. Katherine moved abroad for her studies. However, they are still in touch.
The First Letter
Edit
Dear Katherine,
It's a long time ago I've written you. There happened a lot the past months. Mom went sick after dad's death and she died too, unfortunately. Your mother is completely shocked (speaking about your mother; she really wants to see you). Next week it's mom's funeral. Are you coming? I'm also considering to move out of Pleasantview. My heart belongs in Desiderata Valley, the neighbourhood where I and my parents have always been on vacation. Do you still remember when you've joined us at vacation. I know it was such fun! Maybe we have to do it over again? But, how are you? You're in your senior year, aren't you?
I hope you'll write me back soon. Simon
The Second Letter
Edit
Hello Simon,
You've my sympathy for the death of aunt Clio. However, I'm not coming to the funeral, I'm sorry. I've so much to do and the final exams are coming! And I don't want the see Carmen. I know it's almost 15 years ago when they divorced, but I still can't forgive her. I can't forgive her how she played the game. She ripped my father's money and banned him to see me. But she's was the one who got as first an affair! Also, she has never been there for me! Before the divorce, DAD raised me and afterwards, she never looked at me! I had to do everything on my own! She has neglected me for years and now I'm doing the same. But nevermind, you wrote you were moving to Desiderata Valley? Oh, I remember that place. It was my first and only vacation… I loved it. And sure, after my graduation (I hope I'll graduate :) ) I'll visit you! Furthermore, I'm fine. Like I've already mentioned finals are coming and then I'll graduate!
Be strong! Say aunt Clio I still love her.
Katherine :)
The Third Letter
Edit
Hey Katherine,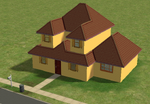 It was a beautiful funeral last week. It's a shame you couldn't come. How are you doing? Are your finals going well?
Well, I have good news! I've just bought a new house in Desiderata Valley! Here's a picture! You like it? It's beautiful isn't it! I already have to end this letter because I have to do a lot of other things. 
So see you soon!
P.S. Here's the address of my new house: 196 Main Street