Marshall Curious

Biography
aka the Omnipotent Sim
Name
Marshall Curious
Gender
male
Age
Adult
Life state
Supersim
Education and Employment
Career
Top Secret Researcher
Curious family
Romances
Cherish Curious
Marital status
married
Child(ren)
Bunny Curious, Notzo Curious
Hidden traits

 Reality Warping
| | |
| --- | --- |
| Aspiration |  Professional Author |
Appearance
Hair color
 Black
Eye color
 Brown
Skin color
 Dark
Marshall Curious is the husband of
Cherish Curious
, and the father of
Notzo Curious
and
Bunny Curious
. He is the grandfather of
Glarn Curious
and the great-grandfather of
Chloe Singles
,
Lola Singles
,
Jenny Smith
,
Pascal Curious
,
Vidcund Curious
and
Lazlo Curious
. He is also the great-great-grandfather of
Johnny Smith
,
Jill Smith
and
Tycho Curious
.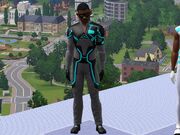 Marshall's family description text states that his work has much more importance to future generations than he imagined.
Marshall is at level 8 in the Science career track, and has two laptops in his inventory. His thirst for knowledge led him to the scientific success, which many later generations would follow. He has a wide range of skill points: 2 points in logic, 3 points in fishing, 6 points in gardening, 2 points in writing and 5 points in handiness. Like his wife, he is good friends with Robert and Beverly Castor.
When out working at the lab one day, Marshall was struck by one of three meteors that crash landed in Twinbrook. A few days later, he discovered that he had the ability to warp reality, as he was able to suddenly manifest a comfier couch out of nowhere after Bunny wished for one. He was the first on scene when Holly Greenwoods plant manipulation powers went out of control, destroying the Twinbrook Esplanade. DeAndre Wolff also arrived, sporting super speed. After helping Holly, the three travelled to Bridgeport as it was discovered that another meteor had crashed there.
Now Marshall lives in Sunset Valley with his family, saving the world and keeping sims everywhere safe as the Omnipotent Sim!
Fanon article ownership
This fanon page was created and is owned by
HRH the Llama King
(
talk
). Unless the edit is constructive and/or minor (such as fixing a template), please do
not
edit this page unless given permission from the author.