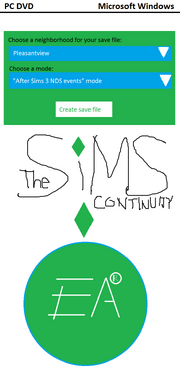 The Sims Continuity

The Sims Continuity cover art

Developer

Publisher
The Sims Continuity (Ang Sims Pagtutuloy in Filipino), officially abbrievated TSC or ASP, is a video game developed by AStranger195 and released by Electronic Arts for Microsoft Windows desktop, OS X, Linux, iOS, Android, Windows Phone, and Windows on January 3, 2016. It continues the storyline of many The Sims games. It is available in English and Filipino. This is one of the few The Sims games that weren't developed by Maxis.
Story mode (Mode ng storya in Filipino)
The main TSC mode.
Sims mode (free play) (Mode ng Sims (libreng laro) in Filipino)
TS4-like, but includes TS1-TS3 Sims and lots, too.
Esistenza Otla (mother of Vita Alto)
Essere Otla (father of Vita Alto)
Draxtander Goth (son of Alexander Goth and Cecilia Goth)
Mabel Landgraab (husband of Malcolm Landgraab IV and mother of Malcolm Landgraab V)
Angelo Pleasant (husband of Angela Pleasant and father of Angela Pleasant Jr.)
Angela Pleasant Jr. (son of Angela Pleasant and Angelo Pleasant)
Hunesta Jackson (mother of Honest Jackson Jr. and wife of Honest Jackson)
Honest Jackson Jr. (son of Honest Jackson and Hunesta Jackson)
Oro Fusili (husband of Ara Fusili and father of Ara Fusili Jr. and Oro Fusili Jr.)
Ara Fusili Jr. (daughter of Ara and Oro Fusili and sibling of Oro Fusili Jr.)
Oro Fusili Jr. (son of Ara and Oro Fusili and sibling of Ara Fusili Jr.)
Skip Broke Jr. (son of Brandi and Skip Broke and sibling of Dustin and Beau Broke)
Rose Dreamer (daughter of Lilith and Dustin Dreamer)
Adrienne Landgraab (wife of Adrien Landgraab and mother of Adriano Landgraab)
Adriano Landgraab (son of Adrien and Adrienne Landgraab)
Dasrancer Goth (daughter of Cassandra and Darren Goth)
Events (story mode)
Edit
Don Lothario leaves Cassandra Goth at the altar
Marriage of Cassandra Goth and Darren Dreamer
Alien abduction of Vidcund Curious
Mary-Sue and Daniel Pleasant get divorced
Daniel Pleasant marries Kaylynn Langerak
Lilith Pleasant breaks up with Dirk Dreamer and marries Dustin Broke
Angela Pleasant breaks up with Dustin Broke and marries Dirk Dreamer
Marriage of Ophelia Nigmos and Johnny Smith
Marriage of Jill Smith and Buck Grunt
Marriage of Kent Capp and Bianca Monty
Marriage of Romeo Monty and Juliette Capp
Marriage of Puck Summerdream and Hermia Capp
Aliens brought Bella Goth back
Marriage of Malcolm IV and Mabel Landgraab
Neighborhoods
Edit
Pleasantview (founded by the Goth family)
Sunset Valley (founded by the Goth family)
Both still exist.
Strangetown (founded by ?)
Much bigger.
Altoland (founded by Nick Alto)
Founded by Nick after leaving Sunset Valley.
The place where families/households - that are not in the main storyline (e.g. Morgana/Thornton Wolff, Adrien/Adrienne/Adriano Landgraab) and those that live in an another neighborhood (Alex/Cecilia/Draxtander Goth) - live.
Soundtrack
Edit
All of the soundtrack of The Sims, The Sims 2, The Sims 3, The Sims 4 and all of their expansion packs, stuff packs, and game packs are included in The Sims Continuity.
Bella Goth is now older than Michael Bachelor. (TS1 and TS3 continuity error)
Kaylynn Langerak is now younger than Mortimer Goth. (TS2 and TS3 continuity error)
Fanon article ownership
This fanon page was created and is owned by
AStranger195
(
talk
). Unless the edit is constructive and/or minor (such as fixing a template), please do
not
edit this page unless given permission from the author.