Fanon article ownership
This fanon page was created and is owned by
Fangirl4545
(
talk
). Unless the edit is constructive and/or minor (such as fixing a template), please do
not
edit this page unless given permission from the author.
Turning Tides



Name:
Turning Tides
Genre:
Drama, Romance
Created by:
Fangirl4545
Rating:
PG13
Number of chapters:
N/A

---

Production
Original run:
July 30th, 2013
Status:
In Progress

---
Story Plot
Edit
Turning Tides (Also known as, TT) is a Drama/Romance by Fangirl4545. The story is about two young adults (Boyfriend/Girlfriend) couples that live in Sunlit Tides, and by the name of, Eric Cartney, and Nichole Cartney (she legally changed her last name) The couples goes through an adventurist collage together, and a life filled with Drama.
Characters
Edit
Eric Cartney: Eric is that cool, handsome, trouble maker guy in school. Always finding a way to make collage life fun with his girlfriend, Nichole.
Nichole Cartney: Nichole is that very charismatic girl that a guy would love. She also has a gentle and annoying side to her. No matter what happens, Eric will always be her man.
Cid Adlam: Cid is a less fortunate guy. He got shipped into boarding school (twice) and got directly sent into collage. Due to that, it turned him into an evil person who wants to ruin everybody's life the same way his parents ruined his.
Chapter I: House By The Beach
Edit
"Well, Mr. Cartney. You'll be paying §750 a month. So, don't worry about being a couple of hundreds short." The Real Estate Agent said.
"Oh, thank goodness!" Eric replied while holding Nichole's hand.
Eric, is a young man who was always the cool guy in school, and always had that great sense of humor that no girl cant deny, he is also a very athlete person, and a great handy-man, and also a very nice and modest guy.
Nichole, on the other hand, is a very charismatic and flirty girl that every man in school wants to date. She's also a night owl and a diva. She also is a very good cook. Crazy as she can be, she's a very nice girl and a gentle one.
As the two couples walk into their house Nichole asked Eric something that he, himself wasn't sure. "Eric, how can you afford this house when you're 19 and I'm 18?"
Eric replied with, "Well... I'm sure I can find a job-" Eric was cut off by Nichole, "No! Don't give me that "I'm sure I can find a job" junk! Eric, I liked the idea with living with you, but... You're so young. You cant find a steady job until you go to collage!"
Eric took a quick pause to think of a reply, Then he spoke. "Then... We'll go to collage!" "Oh, yeah? With what money?!" Nichole angrily replied. "With a little surprise I've left in my parents house." Nichole calmly agreed to head down there to pick whatever Eric had to pick up.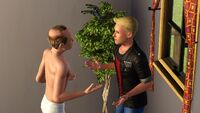 After a nice little cab ride they made their way over to Eric's parents house. "Dad!" said Eric greeting his dad. "Eric!" Eric's dad replied. Then continuing his sentence, "How are you, Eric?" "I'm fine. Just coming to pick up that envelope I left here." Eric's dad paused to think about what he just said (Due to the fact, he is absent minded) "Oh yes! That one. Okay, I put it in a safe place. Just, follow me." "Okay. Oh, dad, mind to tell me why you're in your underwear?" Eric asked. "Oh, I just took a shower." Replied Eric's dad.
Eric, following his instruction's, went over to his father's bedroom and took out the envelope. "Here you go son, I added extra cash if you need it." "Aw dad, you didn't need to do this!" Eric's dad smiled. "Well, if you wanna pay those students loans I suggest you have it." Eric hesitated to grab it. But, he did grab it. "Thanks dad, I knew I could trust you." "Well, why shouldn't you trust me? Hehe!" Eric's dad replied.
"Well than, I guess me and Nichole have to go back now!" Eric said. "Okay sweetheart." said Eric's mother. "Remember I love you no matter what." Eric's mom said. "Okay, okay mom. You made your point." Replied Eric.
After they left, Eric and Nichole went back home and decided to call it a night...
"It so was nice that your dad added some extra cash into your stash." Nichole said. "Ah, he always was a nice guy. Hes the best dad ever." Eric said. "So, when do you think we can go to collage?" Nichole asked. "Err... I say, a few weeks from now." Eric replied. "Aww! What do I do in those few week!?" Nichole asked. "We can go to the beach." Eric replied. Nichole paused for a few moments and then spoke. "Mmm. Fine." Eric then started to smile. "Good. I'm glad my little girl could agree." Eric said in a flirty way.
Eric then told Nichole, "Baby, I swear, I'll marry you someday." Nichole then replied with, "You're a man of your word, Babe, I know you'll never lie to me."
After a long night, Nichole woke up in the morning and found Eric gone. "Eric?" Nichole said quietly. As she walked into the living room, she saw Eric on sofa reading the newspaper. "Eric?" Nichole asked once more. Eric saw Nichole and put his newspaper down. "Oh! Nichole, you're up!" before Nichole could say anything Eric continued his sentence. "I got a collage application paper here so that we could sign up." Nichole smiled.. "Oh man! That's great. So, what are we waiting for? Lets sign up!"
After the couples signed up they decided to head to collage earlier then a few weeks. "Well... Lets go Nichole!" Said Eric. "Right behind ya!" Replied Nichole.
After a long bus ride and some sightseeing, they made it to their dorms. "So, this is collage, eh?" Eric asked. "I heard they have a Meet-And-Greet." Nichole replied.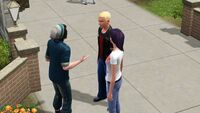 "Yes, but you gotta dress to impress, little lady." Said an unknown voice. Eric then replied with, "Dress to impress? Who are you?" "I'm just a fellow who got out of high school. I have read about collage, if you wanna be liked in her, you gotta dress to impress. Go put on some collage gear! " "Okay...?" Eric replied strangely. Then, continuing his sentence, "What's your name?" The man then replied with, "Cid." When the couples got dressed up, they decided to go to the Meet-And-Greet! "Wow..." Nichole said. "Hey Nichole, how about you go upstairs and I'll meet up with you." Eric asked. "Fine with me!" Nichole said. After Nichole went up to the second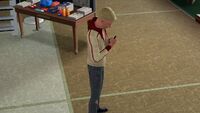 floor, Eric sended a text to Cid. "
Where are you? I"m here at the Meet-And-Greet.
" After waiting a while, Eric got a simple reply. "
I'm running a bit late.
"
Chapter II: The Adventures Begin... Today!
Edit
"Well, it was quite boring..." Nichole said referring to the Meet-And-Greet. "Yeah, and Cid never came." Eric replied.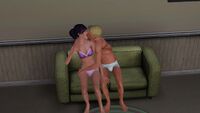 "Well, don't you think its time to call it a night?" Nichole asked. "Yea, lets go..." Eric replied in a flirty way.
The next morning, before Eric and or Nichole woke up, a lot of stuff was going on with Cid... "As I said, I'm going to get Nichole away from Eric." a familiar voice said. "But how?" Asked one of the students. "Don't worry, I'll just tell that stupid Eric to go to a friend's house." the voice said again. "Oh yea! Perfect plan man, perfect plan!" a student with a deep voice said. "Shut up Zeke! You might wake em up!"
Nichole had classes in the morning, but Eric had classes at night. So, he spent his whole day going around campus! When he was around the Cafe, he meet some new friends and decided it was time to pick a group...
"Good day Sir, what would you like today?" said the waiter. "Eh, just a small latte." Replied Eric. "Okay Sir, your latte will be ready momentarily." The waiter then left into the kitchen. For some reason, Eric was feeling awfully tired since he woke up. Then, while Eric was drowning his head into his hands, a young man came up to him and started talking with him.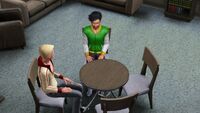 "Feeling down aren't you?" Eric then lifted his head from his hands and looked at this young man. "Eh. Hey." Eric replied softly. "Hey, whats the matter? Your women let ya down?" the man asked. "No, its just I'm a bit tired..." Eric replied. "The names Mike." "Hey Mike, my name is Eric." "Nice to met ya, Eric. Are you new around here?" Mike asked. "Yea, I joined just a couple of days ago." "Ah! I see, you're a newcomer. Did you pick your group yet?" Mike asked. "Group?" Eric replied. "Yea, you know, Rebel, Nerd... That sorta stuff?" Mike said. "I'll get to that later. Right now, I have a lecture to attend." Eric said. Then, right before Eric left, Mike gave Eric his cellphone number. When Eric arrived at the lecture, the Professor was late so they had to study themselves.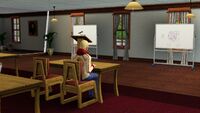 "
What a drag. Professor was late, and Nichole or Mike isn't here...
" When Eric arrived at his dorm, Nichole was already sleeping. It was 10:00 PM, Eric went outside to get some air, as he was going outside, he saw a graffiti kit, and a megaphone. "
Thanks Mike.
" Eric said in his mind. After a while, he went to a park and tried out the new gifts... "
This is gonna be sick!
" Eric said in his mind. Right before he finished his graffiti art, the cops came and arrest him.
"Heh! Little punk, I heard you're new and you're getting yourself into trouble. Tell ya what, I'll give you only one day. Next time you do it, it'll be two days. So watch it."
Eric remained quiet throughout the car ride. The only thing he was hearing was his heart bumping, and the thought of Nichole yelling at him when he gets out of the slammer. "Oh man, what have I gotten myself into..." Eric said in his mind. "So kid, whats your name?" the officer said. "Eric... Eric Cartney..." Eric replied. "Well Eric, you'll be find with §1,000" "1,000?!? That's insane!" Eric exclaimed. "Well, those are the campus rules. If you don't like them, then leave this university." The officer replied. The officer, continuing his sentence, "Anyways, you're allowed to have one phone call. You're allowed to call anybody you know, but you will be watched." Eric then replied with, "Yes Sir."
When Eric arrived, the officer guided Eric over to the phone booth and told him, "Call whoever you want." Eric gave a quick little nod and proceeded to call...
Chapter III: Making A Call
Edit
"Here goes nothing..." Eric mumbled. Eric then starts dialing the number. "Hello?" Nichole said. "Nichole, its me, Eric." "Oh Eric! I didn't recognized the number! Where are you?" Nichole asked. "Umm... Don't get angry but-" "But what?!" Nichole said. "I'm in... Jail..." Eric said softly. "JAIL??!! WHAT THE HECK DID YOU DO??!!" Nichole exclaimed. Eric remained silent. Nichole, then continuing her sentence, "How long are you gonna be there?" "One day..." Eric replied. The officer then told Eric that they're releasing him the next day, at 6:00 AM. "Nichole, the officer told me that they're letting me free at 6:00 AM tomorrow morning." Eric heard no reply. "Nichole?" Eric still heard no reply. Eric then let out a sigh and mumbled to himself, "She hung up on me..." The officer then asked Eric, "You really regret doing this don't ya?" Eric gave a slight nod. The officer then said, "Hm. Anyways, lets get moving." Eric softly replied "Yes Sir."
"Okay Eric, you're free to go." the officer said. "Really!?" Eric said a smile. After Eric left, he went over to his dorm and went into his room. As he was walking in, Nichole was there sleeping.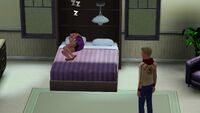 "
Phew! She's still sleeping.
" Eric mumbled. Then, continuing his sentence. "
Now, time to call Mike...
"
Eric went over to the nearest park in the University and decided to call Mike. As Eric was calling Mike, he got voice mail and decided to leave a message. "What the heck Mike! I never knew you can get caught in the act! You never gave me a warning!" Eric then remembered that he had an exam to take. So headed over there and decided to cheat on the exams. "What's the worst that could happen?" Eric said in his mind.
"Mr. Cartney!" the Professor said, "You were caught cheating! Did you know you were on the Deans List?! Mr. Cartney, this could do a big impact on your academy grades! You failed the exams while your girlfriend PASSED the exams!-" "Stop yelling at me!!" Eric exclaimed. Before the Professor was able to continue, Eric left the building.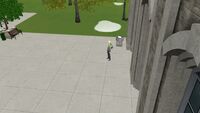 "Great! How am I gonna tell Nichole!?" Eric yelled.
Right before Eric could take another step, Cid appeared. "What do you want Cid?" Eric said in a nasty way. "Hey man, chill! There's an upcoming party going on in a fraternity around here." Cid said. Eric hesitated to go. But after some thinking, Eric replied. "I... Guess I could go-" Cid then cut Eric off. "Great! I'll see ya around there!" Eric then said, "Wait! I need the address!" Cid then gave Eric the address and told him he was gonna prepare for the party...
"Oh wait!" Eric said. "I forgot to fix that sink that Nichole wanted me to fix." Eric headed back to the dorm very quickly and started fixing the sink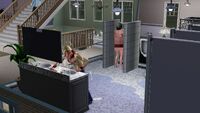 "
I'm gonna be soaking in the party...
" Eric mumbled. After Eric fixed that sink, he headed off to the (so called) party. When Cid saw that the coast was cleared, he went in to make his move... A knock came on the door. It was Cid! "Come in." Nichole said while reading a book. Cid then peaked his head in and then came in. "Oh Cid, Hi!" Nichole said. "Is there anything that you want?" Nichole said. "No. But I do want you to draw me." Cid asked. "Oh, sure!" Nichole replied. While Nichole was getting some paper, she saw that Cid was removing his jacket, shirt, pants... "Umm... Why are you undressing?" Nichole asked.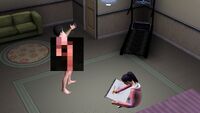 "Wouldn't it be better this way?" Cid replied in a flirty way. Nichole then noticed that Cid had tattoos. "I never knew you had tattoos." Nichole said. "Yeah, I got them some time ago." Cid replied. "Okay, this is how it came out." Nichole then showed Cid the painting. "Oh wow, I love it babe." Cid said in a flirty way. Nichole and Cid talked until 11:00 o'clock at night. Then, Cid said something that changed everything... "Nichole, you know you love me." Nichole was speechless. She had nothing to say, but she continued playing along with it. Cid then said,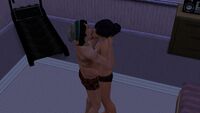 "This is something you'll never forget..." Cid then locked lips with Nichole and the only word Nichole said was, "Cid, I'm with Eric. I shouldn't be doing this-" Nichole was cut off. "Shh!" Cid then picked Nichole up and put her on the bed.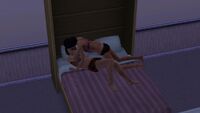 "
Now, didn't I say you'll never forget this?
" Cid said softly.
Chapter IV: Something You'll Never Forget
Edit
Okay, Cid didn't lie about the party, but the only problem was, Mike wasn't there! Eric didn't get it, Mike was supposed to be his brother-from-another-mother. But yet, he can't find him anywhere! So then, while Eric was scrolling around the park, he spotted Mike!
"Mike!" Eric yelled from across the park.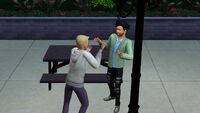 "Why didn't you tell me I'll get spotted for doing street art!!??" Mike didn't know what to say. When you're a Rebel you're gonna get into trouble every now-and-then. Mike then said, "Well-" But he got cut off by Eric. "I bet Nichole would like to ignore me right now after what happened!" Mike then said, "Well, if she doesn't like it, then leave her!" Eric paused for a moment. The thought of leaving Nichole was torture to him. But, he wanted to be a Rebel. So, he apologized to Mike and they started spray painting the streets. "Oh, this is gonna be sick!" Mike said.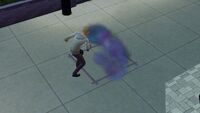 "I love being a Rebel!"
Eric was about to say goodbye to Mike until he noticed something... "Hey Mike, what's up with your eyes?" Mike had the most strangest of eyes, it glowed bright during the night, and they're hazel eyes. Mike quickly moved out of sight and said, "Err... T-that's nothing d-don't worry..." Mike stuttered. "If you say so." Eric replied. Then, continuing his sentence, "Well, I gotta go now. Nichole most be worry sick about me. Bye!" Eric said. "Bye..." Mike replied.
When Eric arrived at the dorm, he saw Nichole laying on the bed, daydreaming.
"Hey Nikki!" Eric said. "Oh, hey Eric." Nichole replied. "Is something wrong, babe?" Eric asked. "No. Nothing is wrong at all." Nichole replied. "Then why aren't I getting a kiss?" Eric asked. "Oh yeah, almost forgot." Nichole said. After Nichole gave Eric his kiss, Eric and Nichole decided to call it a night, and go to sleep. The next morning, when Eric was still asleep, Nichole was up sitting down on the table studying...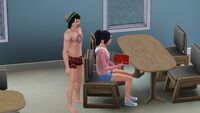 "Hey honey." a familiar voice said. Nichole looked behind her only to find Cid there. "Cid, Don't call me that." Nichole replied. "Why not? I thought you loved me." Cid asked. "I don't love you Cid, as a matter of fact, I hate you." Cid chuckled, and then went close to her ear to whisper something to her. "
You know you love me. You only hung out with Eric because he was the popular guy in school, and its school sense to date the popular guy when you're the popular girl.
" Nichole then said. "
How did you know about my High School life?
" Nichole asked. "
Because, guys stalk their crushes.
" Cid then kissed Nichole on the neck, and then walked away. Nichole wanted to think this over. So, she sat on the bed, and starting thinking about confessing to Eric.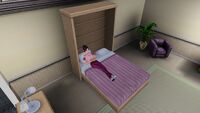 "
Should I do it? But if I do, Eric would do a bloody beat down on Cid! Oh, what have I done? What have I gotten myself into?!
" Nichole said in her mind. "
Something is telling me to go tell Eric...
" Nichole said. After a long talk with herself, she went to Eric, and started talking. "Eric... There's something I need to tell you." Nichole said in a soft way. "Well Nikki, tell me?" Eric replied. "I-I cheated on you..." Nichole said as she was going to burst into tears. "You w-what?" Eric replied with a serious manner. "Eric please-" Nichole was cut off.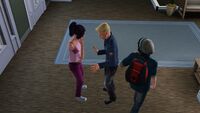 "Please? You're telling me Please? I'm not your little toy anymore! I should have known that a little snob like YOU! Would do this! And who is this guy that you're crazy about?!" Eric quickly said. "So, I see you made up your mind, Nikki!" Cid said in a distance. "You..." Eric mumbled. "Eric, please don't!" Nichole says while grabbing Eric's arm, while he pushes her away.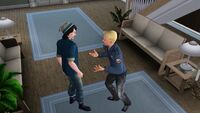 "So, you've been the one brainwashing Nichole, Eh? I knew you were up to something! You acted very strange around me, and or Nichole!" Eric said. "Hah! I wouldn't even considered you guys Boyfriend or Girlfriend! You just did that for the popularity in school!" Said Cid. Already at that moment Nichole was already somewhere far away from Campus.
"
Aww! I hate myself! I wish I wouldn't had been so stupid!
" Nichole thought to herself. Then, after a few moments of doubt, Nichole just felt a strange stomach knot. No, this knot wasn't ordinary, it was feelings to vomit. With no bathrooms around, Nichole had to do it in the bushes. "That's strange, I didn't eat anything that was spoiled yesterday, or today..."
Eric have had enough of Cid. So, he went over to where Nichole was (Not knowing she was there.) When Nichole saw Eric walk by, she knew he wasn't there for her, it was to get away from Cid. Eric walked right passed her, and sat down on a chair away from Nichole and started studying. After a moment of silence, Nichole decided to break it. "You're upset with me. Aren't you?" Eric stayed silent and continued to study. "Listen Eric, it's just that... It's just... Cid was seductive and manipulated me... And he is... S-sorta... Hot..." Nichole looked away knowing that what she just said isn't going to change Eric's mind.
Eric furiously tightened his grip on the pencil he was holding and shouted out, "You just admitted that you didn't mind having an affair with HIM! Listen Nichole, who knew you for the longest of times since high-school? Who was the only serious boyfriend you had in your entire life? Who treated you like a SOMEBODY when the rest only TOYED and USED YOU??!! ANSWER ME THAT NICHOLE." Eric replied going on a screaming match with Nichole. Nichole started getting angry. "I did not say I LIKED being with Cid! He forced ME into it!-" Nichole got cut off by Eric. "Did he tie you up on the bed? Or did you ALLOW it to happen?!"
"I am NOT going to repeat myself when I already gave you my answer onc- Ah!" Nichole winced while putting her hands on her stomach. Eric immediately forgot about the fight they were having and ran towards Nichole. "Nichole, what's wrong? Are you hurt? Did Cid do this to you?" Nichole, overwhelmed with Eric's questions, used her hands to signal him to stop for a moment. "My stomach has been hurting me like crazy since I got here. And the yelling only got it worse..." Nichole winced again while leaning against Eric's chest. Eric put his arms around her, and hugged her. He then asks her, "Do you want me to bring you to the hospital?"
Nichole slightly nods her head. Eric mumbles a "Okay" and then head towards the hospital wrapping his arms around her.
Chapter V: Congratulations Nichole!
Edit
Eric paced back and forth in the waiting room inside the hospital, waiting to hear news on Nichole by the Doctor. Before he knew it, a nurse came out of the room Nichole was in, smiled at Eric and used her hands to indicate Eric to come inside. "Why is she smiling? Who would be smiling at a time like this?!" Eric thought to himself.
Eric ran inside the room only to find Nichole and the Doctor smiling at him as well. Eric was dumbstruck. The Doctor spoke up, breaking the silence by saying, "Congratulations Mr. Cartney! Your girlfriend is pregnant." Eric was only able to say one word. He said, "What?" A smile creeped up Eric's face. A whole bunch of questions flooded Eric's mind. "Well, don't keep me waiting! What's it gonna be?! A boy or a girl?!" The Doctor went back to being professional and answered Eric's question. "We can't tell yet. Mrs. Cartney is only one months pregnant."
"When is the due-date?" Nichole asked while softly caressing her belly. The Doctor looked at her and answers her. "Probably around November 12th or 15th." After answering a few more of Eric's questions, the couples decided to head back to the dorms.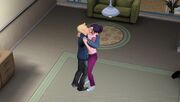 Nichole and Eric entered their dorm rooms. The silence was too loud for Nichole to handle. She just hoped Eric would say something like, right now. As if her wishes were heard, Eric spoke up. "Nichole... It was wrong of me to overreact that way towards you. I know you didn't mean to cheat on me. And besides, I love you too much to hate you." Eric leaned in for a kiss. Nichole didn't hold back.